Quality Statement
The purpose of our quality system is to provide assurance to our customers that NuAire products are manufactured using internationally-accepted standards of performance. To accomplish this, we use a quality management system structured to ISO 9001:2015 and 13485:2016 requirements. The standards also allow others, including ourselves, to assess our ability to meet customer and regulatory requirements.
Our quality system complies and is certified to the following international standards at our Fernbrook and Niagara locations: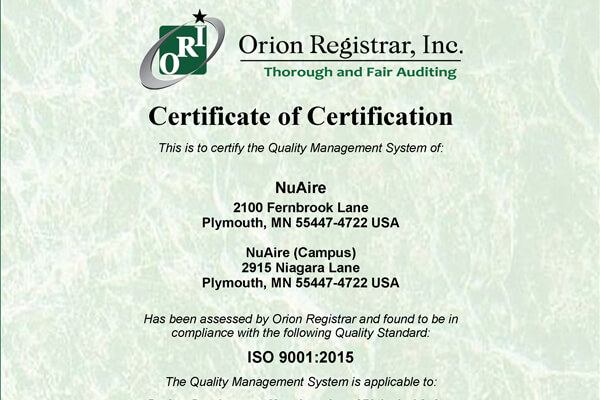 certification
ISO Certificate 9001:2015
NuAire is an ISO 9001 certified company showing our quality management system's ability to consistently provide products and services that meet customer requirements and industry regulations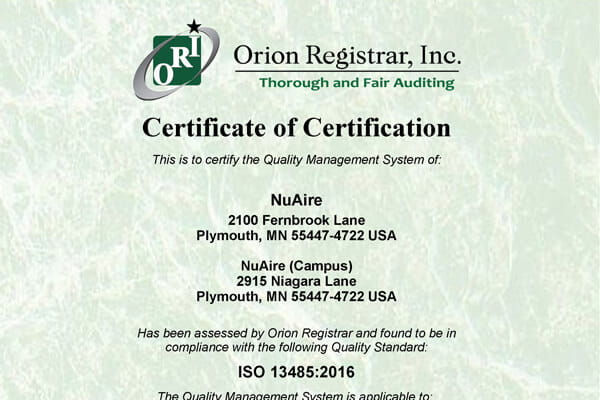 certification
ISO Certificate 13485:2016
NuAire is an ISO 13485 certified showing our quality management system's ability supply medical devices that meet customers' needs and market regulations.
Quality policy
It is NuAire Quality Policy to:
Satisfy Customers
Comply and Maintain Quality System Requirements
Continually Improve
Sustainability
Our commitment to sustainability extends to purchasing or using products that reduce energy consumption, reduce environmental impact, minimize pollution, and/or use recycled content that will not deplete natural resources. We give back to the community through product training programs and our participation in many professional organizations. Our employees are empowered to be eco-friendly to find creative ways to sustain NuAire's commitment to the world in which we all live. Our plan includes continually trying to use more recycled materials in our Biosafety Cabinets (BSC) through design, supplier parts, and process improvements.