Article
Biosafety Cabinet Ergonomics
5/25/2021

Advancements for Improved Safety Conditions, Productivity, Quality, and Reliability for the Reduction of Common Work Place Injuries.
Superior Ergonomics Without Compromising on Safety
Technicians often spend eight or more hours sitting in front of a biosafety cabinet; this makes all-day comfort a necessity. NuAire Biological Safety Cabinets (BSC) is designed to specifically reduce arm, shoulder, and neck strain that often contributes to repetitive stress injuries. All NuAire equipment complies with the Americans with Disabilities Act (ADA). A recessed front airfoil grill allows users to rest their arms without obstructing airflow. A recessed work tray also provides users additional flexibility when working with bottles or pipettes. The centrally located control panel combined with a shorter reach into the work zone allows users to bring work closer without sacrificing safety. An ergonomically designed chair with the optionally available footrest provides optimal back and leg support. The adjustable base stand provides the ability for laboratory personnel to personally customize their ergonomic conditions to optimize leg and arm support.
Forearm Support for Comfort and Safety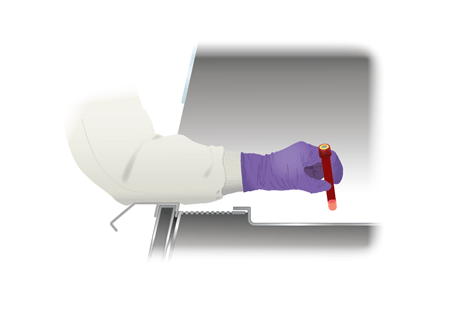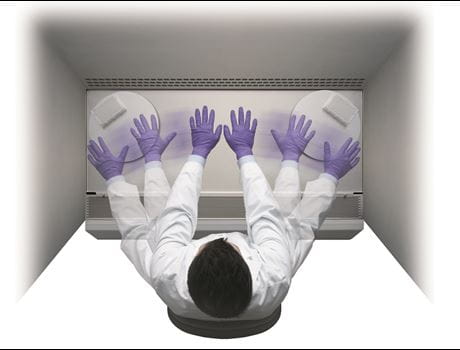 A wide work access opening coupled with a sloped armrest extension provides comfortable forearm support without obstructing the dynamic air barrier separating personnel from their work zone. Movable elbow rests with silicone padding can also be utilized for greater flexibility when handling various laboratory apparatuses, such as beakers, plates, blood tubes, etc., inside the work zone. NuAire's stainless steel turntables also allow you to maximize the spatial efficiency of your cabinet's work surface while reducing turbulence caused by reaching around and across the work zone.
Keep your arms relaxed and comfortable all day with NuAire's ergonomic BSC accessories.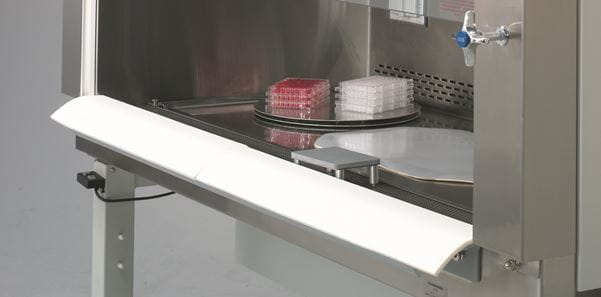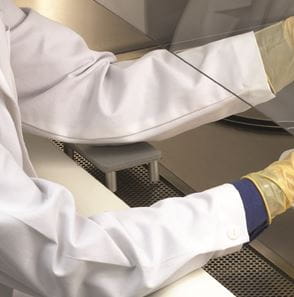 Extended Access Opening & Sloped Viewing Window
NuAire Biological Safety Cabinets boasts the largest allowable access opening of up to 12 inches (305 mm), which greatly increases the ability to transfer a variety of laboratory materials in and out of the work zone without having to interrupt cabinet performance. The sloped viewing window also reduces eye, neck, shoulder, and back strain by redirecting ambient glare upwards and allowing a more natural posture while conducting your workflow. The frameless viewing window allows greater visibility and better sightlines into the work zone. Cool, white LED lighting reduces glare from inside the work zone to further lessen eye fatigue during long work periods. The interior LED lighting consumes less energy than their fluorescent/incandescent counterparts and minimizes heat output above your products.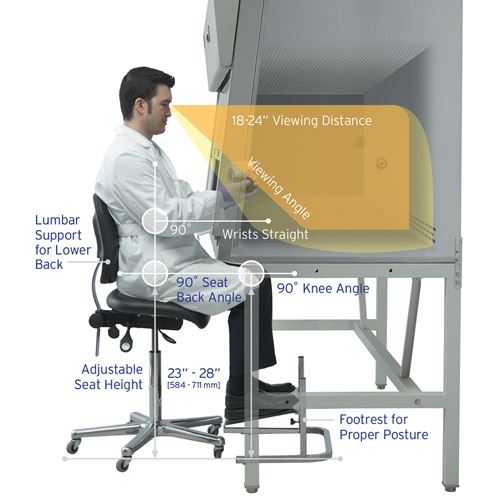 Adjustable Base Stand and Ergonomic Footrest
Every NuAire BSC comes standard or can be optionally fitted with an adjustable telescoping or mechanical auto-rising base stand to ensure the work surface remains elevated to your ideal height. An ergonomically designed chair with lumbar support combined with NuAire's adjustable footrest encourages proper posture that will help keep you comfortable all day.
Quiet and Efficient Operation
NuAire's unique HEPEX™ Zero Leak Airflow system evenly disperses air across the supply filter, which minimizes vibration transfer, reduces noise, and eliminates potential leaks by surrounding positive pressure plenum with negative pressure. Each NuAire Biological Safety Cabinet also comes equipped with a single, Ultra-High Efficiency DC ECM motor that reduces energy consumption and runs significantly quieter when compared with a standard DC motor. The HEPEX™ plenum, ultra-high efficiency motor, and NuAire's patented Attenumont™ support system greatly reduce vibration, relieving prolonged physical stress and stabilizing product workflow within your cabinet.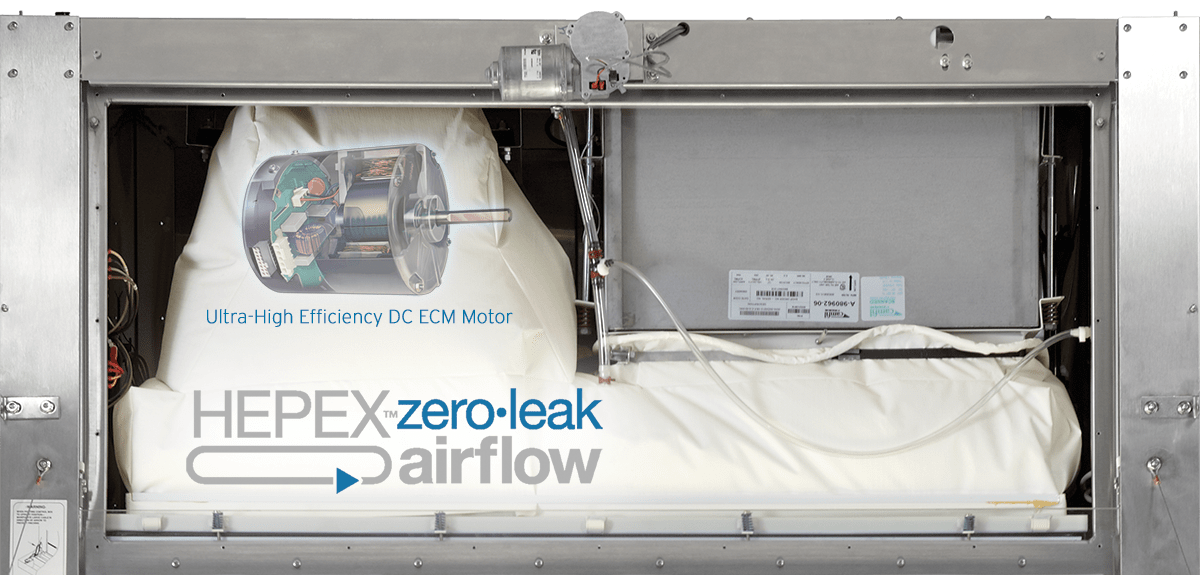 Custom Solutions for Extra Flexibility
NuAire products are built to order to optimize your working environment for your unique application; we routinely reshape our cabinet's inner and outer dimensions to neatly fit within any space inside your lab. We often add computer arms, monitors, and microscope windows into our standard cabinets, as well. Another common customization involves installing an IV bar and smooth interiors for efficient and easy-to-clean pharmacy compounding workflows. Regardless of what type of modification your lab and research may require, NuAire is capable of meeting any esoteric laboratory need and provide you with excellent troubleshooting support for years to come, ensuring your custom equipment continues to perform at peak levels for the entirety of its lifespan.
Visit National Institute for Occupational Safety and Health (NIOSH) for additional information related to ergonomics in the workplace.