Article
How does a Class II, Type A2 Biosafety Cabinet Work?
12/4/2020
Seth De Penning
A Class II, Type A2 Biosafety Cabinet is given its Class and Type based on performance criteria developed by performance standard NSF/ANSI 49. A Class II, Type A2 Biosafety Cabinet (BSC) provides personnel, product, and environmental protection through filtered air, laminar or unidirectional air, and a motor blower. Room air is drawn in through the front grill of the cabinet. The air is pulled under the work surface and through a back wall plenum through a motor blower. This contaminated air is then pushed into the central plenum, where a small portion (30%) of air is exhausted out of the top of the cabinet through a HEPA filter. The remaining air (70%) is re-circulated back into the work zone through a HEPA filter in a laminar (unidirectional) pattern. The air then splits on the work surface, pulled through the back wall grill, around the edges of the work surface, and back through the front airflow grill, where it is pulled under the work surface to start the air recirculation process.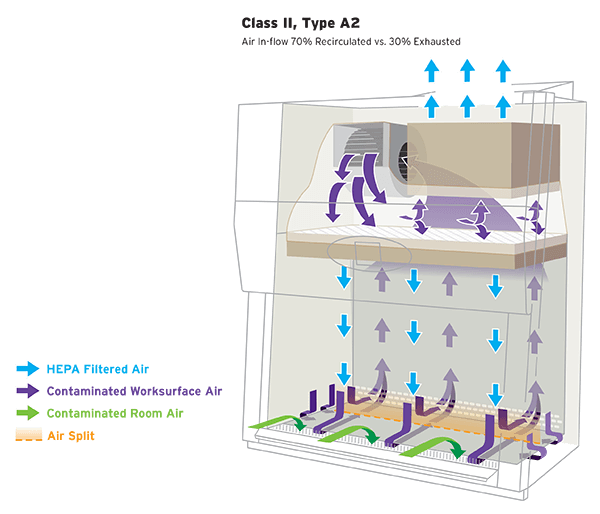 Personnel protection is created by an air barrier at a minimum of 100 FPM (0.51 m/s) at the front of the cabinet, where laboratory and work surface air are pulled into the front air grill.
Product protection is created through laminar airflow over the work surface. The unidirectional pattern minimizes cross-contamination.
Environmental protection is created by filtering the exhaust airflow through a HEPA filter.
A Class II, Type A2 BSC used for work with minute quantities of non-flammable or explosive volatile toxic chemicals and tracer amounts of radionuclides required as an adjunct to microbiological studies must be exhausted through properly functioning exhaust canopies.