Article
Use of Pharmacy Compounding Isolator Onboard US Navy Ship
4/20/2015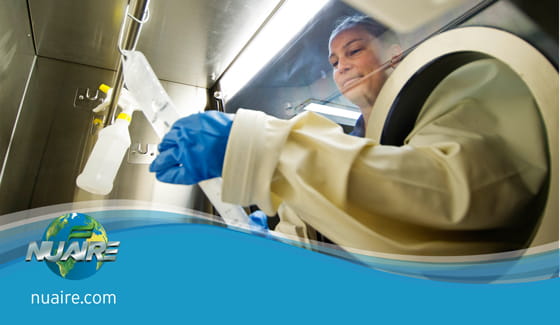 Restricted Access Barrier Systems such as Compounding Aseptic Isolators and Compounding Aseptic Containment Isolators are glove boxes that allow a pharmacist to mix medications in a sterile, positive air pressure environment. They are also used to prepare syringes and IV bags for the treatment of patients in hospitals. When using a compounding aseptic isolator, airflow passes through a HEPA filter that removes particulates and other contaminants. The isolator is designed to separate the environment where the pharmacist is working from the environment where the work is being done.
It's important to keep in mind that isolators are not "magic boxes." Specifically, they require certain conditions to be met to provide proper aseptic conditions. They require stringent procedures to operate safely, including proper disinfection, safe material transfer, and safe production of medications while in use. The pharmacist must also be scrubbed, gloved, and gowned to create a sterile environment.
NuAire pharmacy compounding isolators are used onboard ships of the United States Navy, particularly the hospital ships USNS Mercy and USNS Comfort. These vessels provide all the services of a modern hospital and can be deployed offshore any place in the world. The Mercy and the Comfort are not only deployed to treat casualties resulting in American military operations but also to support the Navy's efforts to alleviate the effects of natural disasters anywhere in the world as well as to provide medical services in remote areas where they would not ordinarily be present.
Mercy's first major deployment was during Operation Desert Storm. Since then she has participated in the periodic Pacific Partnership operations designed to provide humanitarian relief to countries along the Pacific Rim, such as Indonesia, the Philippines, and the countries of Southeast Asia. The Comfort has also deployed during Operation Desert Storm, as well as the Iraq War. She supported relief operations in Haiti, off the coast of New York City in the wake of 9/11, the Gulf Coast in the wake of Hurricane Katrina, and ongoing humanitarian operations in the Caribbean and Central and South America.
NuAire compounding aseptic isolators have been used in many areas of the world, even under the harshest of conditions. With this adaptability they are able to support the treatment of injured and sick patients across the globe, all the while simulating the safest of conditions for physicians.