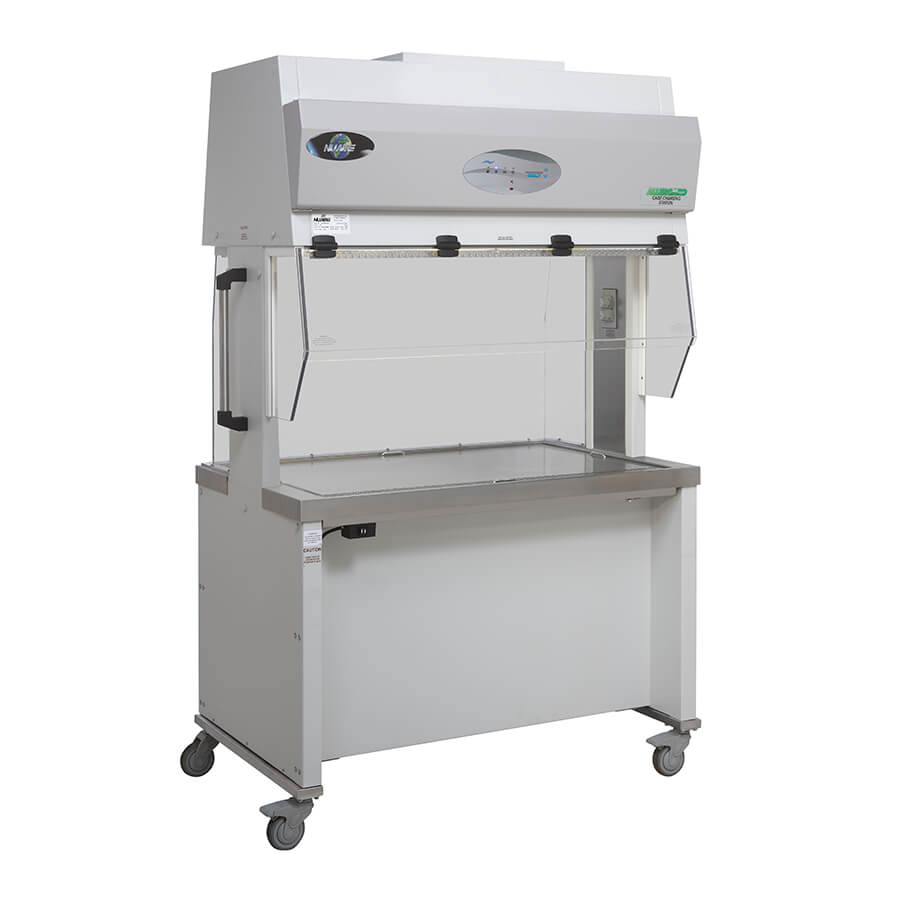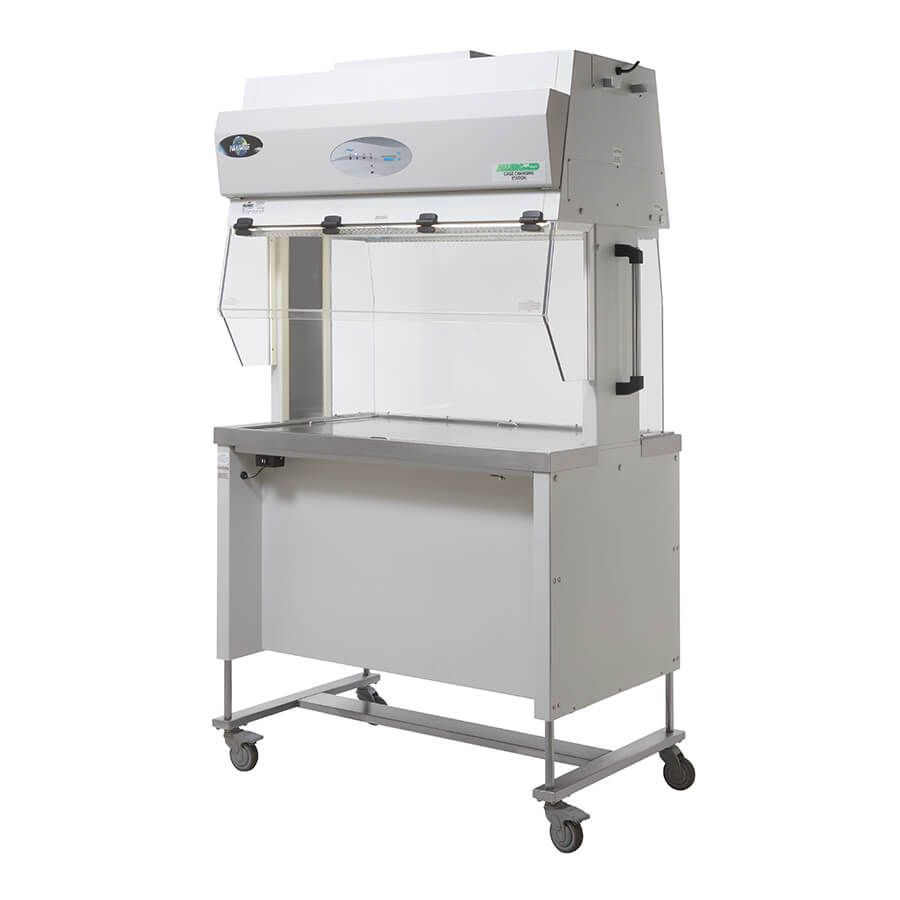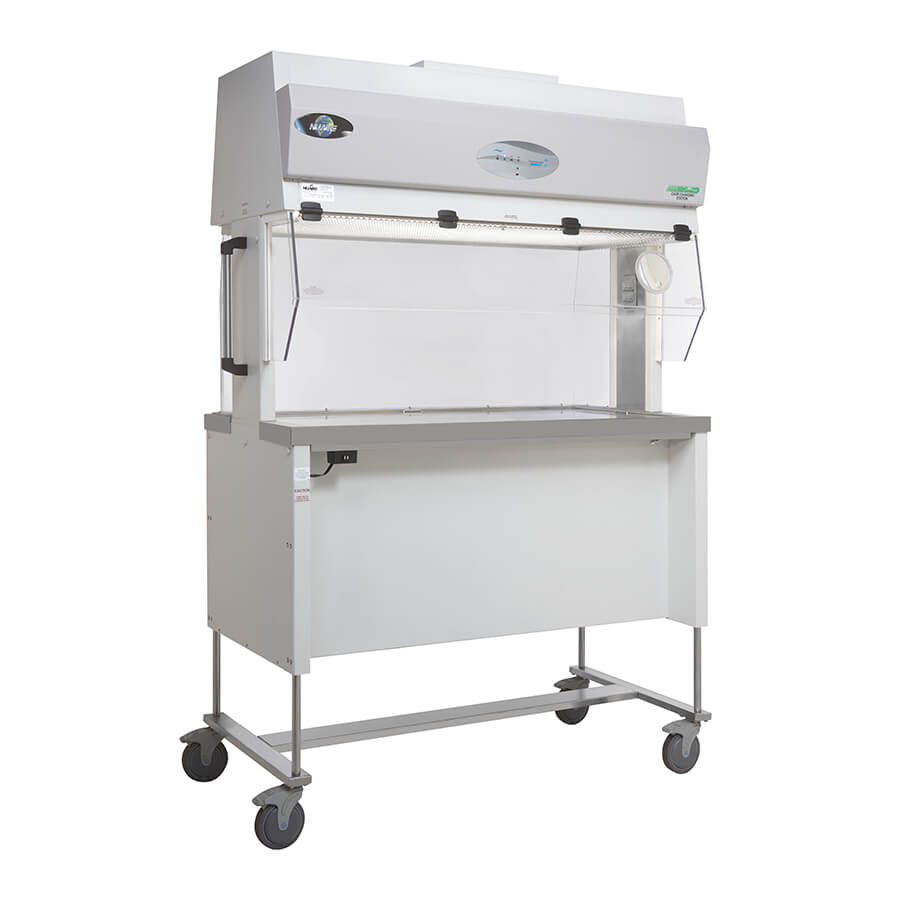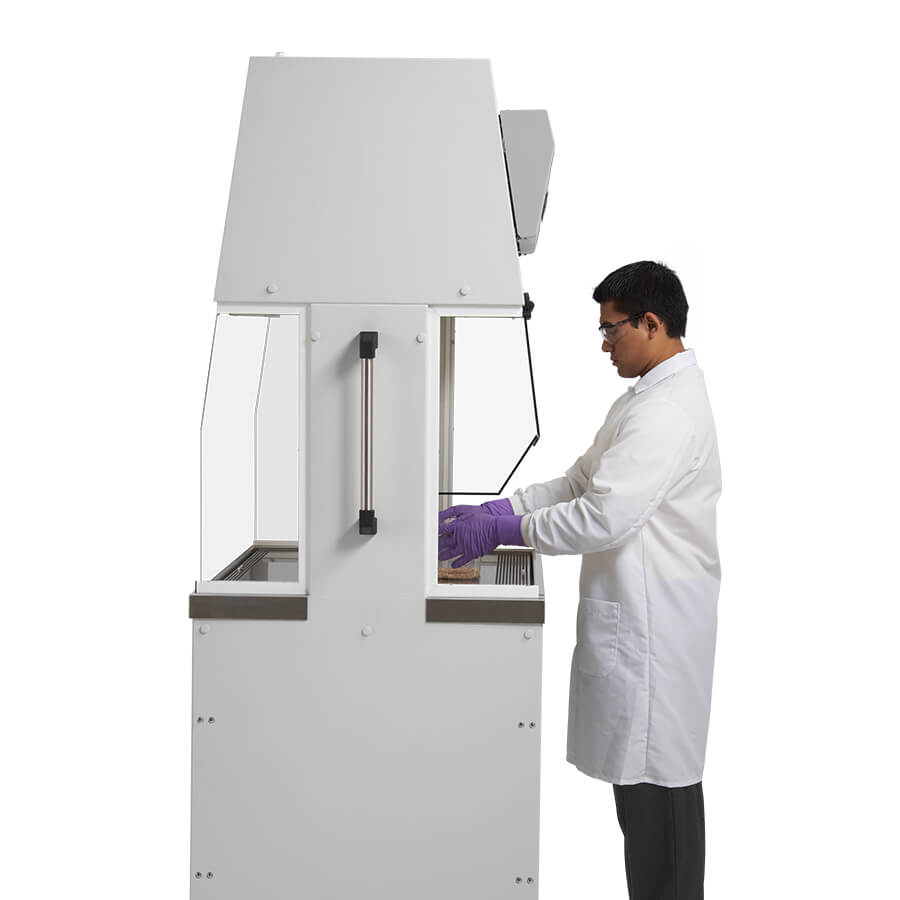 AllerGard ES

NU-621


Single Side Animal Transfer Station

Single-Sided Configuration | Dynamic Air Barrier | Improved Allergen Protection | Dynamic Air Barrier

The AllerGard NU-621 is a singled-side Animal Transfer Station (ATS) that offers improved allergen protection through a dynamic air barrier of 75 fpm (0.38 m/s) through the front of the cabinet. The HEPA filtered laminar downflow air of 60 fpm (0.30 m/s) provides animal protection within the work zone. In addition, HEPA filtered exhaust air provides environmental protection to the vivarium. Model NU-621 is available in three nominal widths to fit your available laboratory space or cage change workflow. A pre-filtration system extends supply and exhaust HEPA filter life. Constructed on a motorized based the NU-621 is perfect for multiple users. AllerGard NU-621 provides the perfect environment for medical veterinary directors and vivarium facility managers looking for an ergonomic solution to efficiently change mouse and rat cages in a clean environment while improving allergen protection.

Request a Quote
A Size to Meet Your Needs
The Singled Sided AllerGard NU-621 is available in three different nominal widths.
Products
NU-621-300
3-feet (0.9 m)

NU-621-400
4-feet (1.2 m)

NU-621-500
5-feet (1.5 m)

Quick Specs
Air Cleanliness (ISO 14644)
ISO-Class-3
Control System
AeroMax
Downflow fpm (m/s)
60 FPM (0.30 m/s)
Protection
Product
Work Access Opening(s)
14 (356)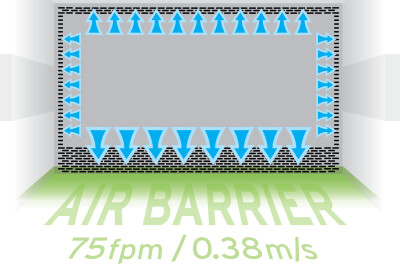 Improved Allergen Protection
Dynamic Air Barrier
The single-sided design of model NU-621 creates a dynamic air barrier of 75 fpm (0.38 m/s) at the opening of the cabinet. The result is a more powerful air barrier improving allergen protection and animal sterility.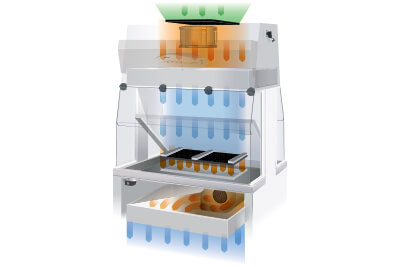 Minimize Work Zone Heat Build Up Redcuing Stress on Animals
Single Pass Airflow
The airflow pattern starts with the supply pre-filter located on top of the station, continues through the supply Impeller and through the supply HEPA filter providing 99.99% particle removal at 0.3 microns. The airflow moves in a uniform vertical pattern providing particulate-free air in the work zone. The down flow air is then pulled into the vacuum slots around the work surface, through the exhaust pre-filters, and the exhaust HEPA filter.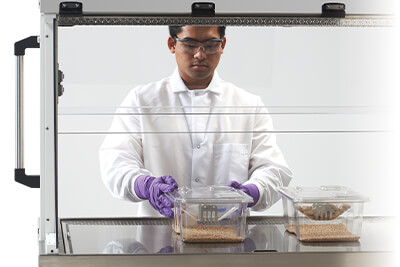 Making Transfers Easy
Large Access Opening
A Large 14-inch (356 mm) Access Opening makes it easy to add and remove the largest cages while providing your arms an extended range of motion.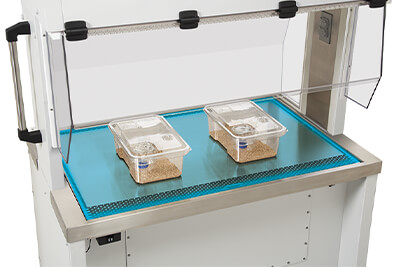 Spacious Work Zone
A Spacious Work Zone offers more room to work with cages and allows for the additional placement of work flow items such as feed, water bottles, and more.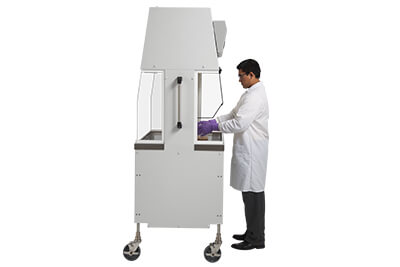 Sit or Stand at a Range of Heights
Model NU-621 provides the ability to Sit or Stand at a Range of Heights through an automatic lift system offering 12-inches (305 mm) adjustable height.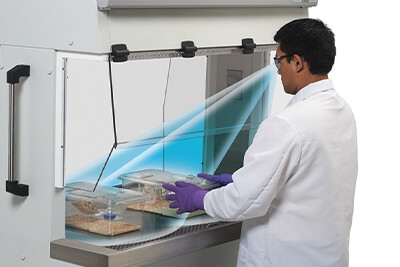 Large Unobstructed View
A large 12 inch (305 mm) slanted view screen provides an unrestricted view of the work zone allowing the technician to adequately and safely do their job.
The NuAire© Advantage
NuAire® utilizes an independent network of sales and service professionals offering our customers a vast array of knowledge and relationships. Our inside sales and service teams are the pride of the industry; some of which have been with NuAire® since the beginning in 1971. We work hard and diligently to make you happy. That is our mission, and that is why we come to work every day. Purchase a NuAire® and become part of our family.
Warranty
Backed by the Industry's Best
3 Years Parts & Labor (United States and Canada)
Consult Local Distributor (Global)
Standard Features
75 fpm (0.38 m/s) Inflow
60 fpm (0.30 m/s) Downflow
4-inch (102 mm) Casters
Pre-filtration System
14-inch (356 mm) Access Opening
Hinged Polycarbonate View Screen
| | |
| --- | --- |
| Air Cleanliness (ISO 14644) | ISO-Class-3 |
| Built-in Shelf for Stand-Up Option | Option |
| Casters | 4 (102), Lockable |
| Construction | Painted Steel Main Cabinet, Stainless Steel Plenum & Work Surface, Polycarbonate View Screen |
| Control System | AeroMax |
| Diffuser | Metal |
| Downflow fpm (m/s) | 60 FPM (0.30 m/s) |
| Electrical Configuration | 115V60Hz, 230V5060Hz |
| Exhaust Filter | 3-inch (76mm) 99.99% Efficiency on 0.3 microns |
| Exhaust Prefilter | Polyurethane Foam 15PPI |
| Feeder Holder(s) | N/A |
| Folding Shelf Dimensions (W x D) | Option, 14-inch (355mm) x 30-inch (762mm) |
| Free Standing Cage Top Holder | Accessory |
| Fumigation: per NIH/NSF Procedures | Yes |
| Hand Sanitizer Dispenser | Accessory |
| HEPA Filter Seal Type | Neoprene, Spring-loaded |
| Inflow fpm (m/s) | 75 (0.38 |
| Lighting | LED |
| Light Intensity fc (Lux) | Inquire |
| Magnifying Glass in Window | Option |
| Motorized Base Stand | Included |
| Outlet(s) | One, Right Sidewall |
| Plenum Type | Inquire |
| Power Cord | 15A |
| Power Cord Length Foot (Meter) | 20 ft. (6.1 m) Cord Reel |
| Protection | Product |
| Safety Certification | UL, UL-C |
| Service Valves (3/8-inch NPT) | N/A |
| Style | Console |
| Supply Filter | 3-inch (76mm) 99.99% Efficiency on 0.3 microns |
| Supply Prefilter | Polyurethane Foam 15PPI |
| Viewing Window Inches (mm) | Hinged |
| Work Access Opening(s) | 14 (356) |
| Work Surface | Stainless Steel |
NuAire Accessories
Please keep in mind parts and accessories are product and size specific, contact your sales representative for any clarity to your size questions.
North & Central America
Latin America
Argentina
Brazil
Chile
Colombia
Ecuador
El Salvador
Peru
Puerto Rico
Uruguay
Europe
Belgium
Italy
Lithuania
Netherlands
Spain
Turkey
United Kingdom
Africa
Ghana
Nigeria
Senegal
South Africa
Middle East
Egypt
Jordan
Oman
Qatar
Saudi Arabia
United Arab Emirates
Asia
Austria
China
Democratic Peoples Republic of Korea
India
Pakistan
Philippines
Singapore
Taiwan
Thailand
Vietnam
Australia
REQUEST A QUOTE
PLEASE FILL OUT THE FORM AND WE'LL GET TO WORK ON GETTING YOU WHAT YOU NEED.
How it works. NuAire sells through a network of knowledge representatives, some who have been selling and servicing NuAire since our inception in 1971. We'll notify your local representative who will reach out to you. He/She can assist with product selection/configuration, training, installation guidance, support throughout the life of the product, or just provide you pricing in a quick manner. We have some of the best customers who are doing some groundbreaking work. We would love for you to join our family and experience the NuAire Advantage.
Why Your Colleagues Choose NuAire
Let me say that we have come to rely on Nuaire, as a strong partner to Vaccines & it is so because of our valued relationship with George Riley, who is always at our beck and call. God bless him (Keep him for Sure!!) & your Quality BioSafety Cabinets. Service is King & Quality is his side-kick!! So thank you! We look forward to a long and prosperous relationship. Keep up the good work & quality build.