PharmaGard
NU-NTE800
Compounding Aseptic Containment Isolator
Restricted Access Barrier System
The NU-NTE800 is a Compounding Aseptic Containment Isolator (CACI) that provides a negative pressure environment for the compounding of sterile, hazardous drugs and exhausts all work chamber air without recirculation and requires connection to an external exhaust blower with adequate capacity.
Overview

Specifications

Reviews

Resources

Accessories
Overview
The NU-NTE800 Compounding Aseptic Containment Isolator is the ideal choice for pharmacies committed to the safe and efficient compounding of sterile, hazardous drugs. This innovative CACI features a robust stainless-steel design and clear polycarbonate window with integrated glove ports, ensuring an ISO Class 5 environment with 20 air changes per minute through HEPA filtration. Designed for optimized workflow, the NU-NTE800 boasts a two-chamber system with differentiated negative pressures to prevent both inward contamination and outward escape of hazardous agents. Additionally, the isolator incorporates a sliding door for smooth transfer of materials, a hinged front window for maintenance ease, and a PharmaGard™ digital monitor for precise pressure control. The inclusion of an exhaust monitor with an alarm system, alongside the option for a waste disposal system, further enhances the workflow, providing a physical barrier for product and user protection that exceeds the capabilities of traditional air barrier equipment.
FlowGard Electronic Control System
Maximize your compounding safety with the FlowGard Control System, featuring dedicated minihelic gauges for real-time pressure monitoring in both chambers of your RABS. This advanced system allows for a quick assessment of pressure differentials, ensuring a consistent, safe environment for sterile hazardous compounding. With the added security of the PharmaGard digital monitor, any deviation from the set negative pressure triggers an immediate alert. At the same time, the interlock mechanism responds to exhaust failures by shutting down airflow. Easy-to-use panel membrane buttons control the blower and lighting, enhancing safety and providing immediate feedback during critical compounding work.

Inside Pressure Differentials
Maximize containment and sterility in critical compounding processes with our Compounding Aseptic Containment Isolator. It is designed to operate at negative pressure and prevent particulate escape, while the 45-55 fpm downflow of HEPA-filtered air ensures an ISO Class 5 environment with 20 air changes per minute. Its dual-chamber setup maintains a higher negative pressure in the interchange area than in the work area, providing an added layer of protection against contamination. All air is securely exhausted to an external system, reinforcing negative pressure and preventing recirculation.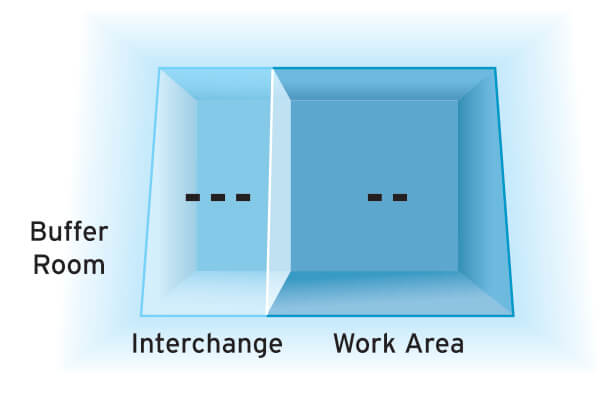 Designed for Comfort
Enhance visibility and comfort with PharmaGard RABS expanded vision and work zones. Our design boasts cool white lighting and unobstructed sight lines for clear viewing, coupled with the largest effective work zone to minimize strain on arms, neck, and shoulders. The generous oval glove ports extend users' reach, while multiple IV bar positioning options ensure optimal height and distance for precise compounding activities.
Space Saving Sharps and Waste
Streamline waste management with the PharmaGard's integrated disposal system. Designed for efficiency, two waste containers within the sterile work zone are accessible via negative pressure drop tubes, ensuring sterility and containment. When a container fills up, PharmaGard's simple change-out process allows individual replacement without compromising the sterile environment. To replace, release the locking handle, slide out the tray, and swap the containers—enhancing workflow and maintaining safety.
Specifications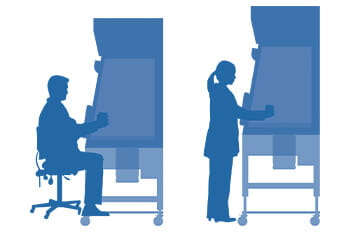 Request a Quote for NU-NTE800
Please fill out the form below for a lab equipment quote and we'll get to work on getting you what you need. Need to talk with someone right away? Give us a call at
763-553-1270
.
Thank you for completing the form.
We will be in touch. If you have any urgent questions, please reach out at 763-553-1270.