LabGard ES AIR
NU-543
Class II Type A2
Biosafety Cabinet
The NU-543 is configurable for a broad range of applications and geographies with a choice of NSF listed access openings, an optional smooth interior, EN 12469 listed configurations, and a global supply chain.
Overview

Specifications

Reviews

Resources

Accessories
Overview
The NU-543 carries the LabGard® value proposition across the boundaries of geography and scientific applications by offering the broadest choice of configurations. This model features a dual thermistor airflow sensor and alphanumeric display for laboratories requiring a clear measurement of their cabinet's performance and a choice of three NSF listed work access openings for procedures needing ergonomic access to the work zone. The cabinet can optionally be made with a smooth interior for procedures such as pharmacy compounding and always includes a prop up work tray to ease regular cleaning under the work surface. Double exhaust filters can be fitted to meet the requirements of an application or national guidelines. A truly global product, models are available that meet NSF/ANSI 49 and EN 12469, feature multilingual displays, and can ship from multiple locations around the world. * *Some options and configurations are only available from North America. Consult NuAire for details.
FlowGard Control System
The FlowGard control system calculates inflow velocity based on the data received from the exhaust airflow sensor and displays it on the front screen. Alphanumeric readouts, nearby membrane buttons, and a choice of 6 world languages all make navigating this system's user and service menus easy.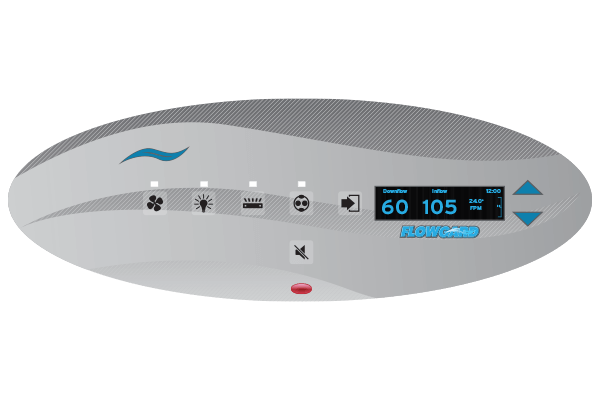 Choice of 3 Access Openings
A choice of 8, 10, and 12 inch (203, 254, and 305mm) work access openings that are NSF approved allow the user to configure their biosafety cabinet for their specific application while remaining confident of certified containment.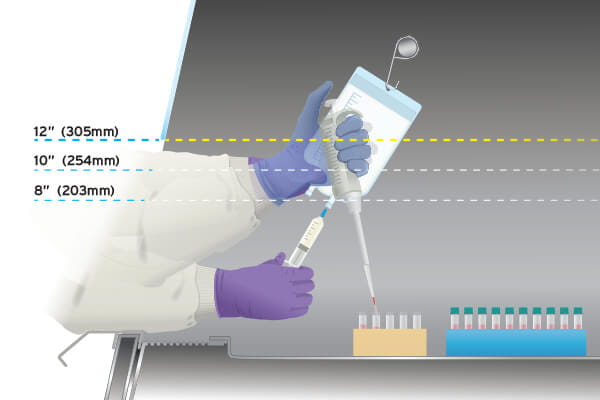 Smooth Interior Option
The side and back walls made from one piece of steel already make routine wipe down easy. Go one step further and remove the work zone outlets and service valves to create the ultimate easy to clean steel surface appropriate for applications such as sterile drug compounding.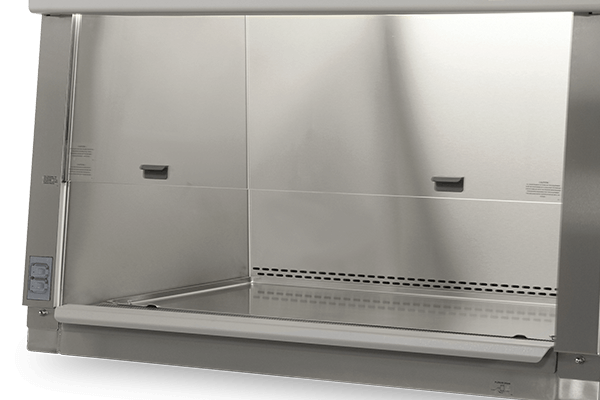 Specifications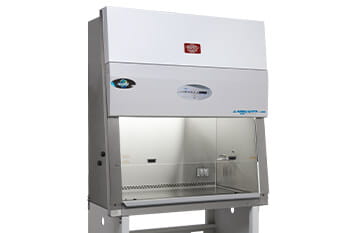 | | |
| --- | --- |
| Blower Contact Wires | Optional |
| Closure Panels | Optional Rear Closure Panels for Seismic Brackets |
| Cord Pass Through | Standard Right |
| Double Exhaust HEPA Filter | N/A |
| Gas Supply Interlock with Blower | N/A |
| Glass Sidewalls | Optional with 8 or 10 inch (203 or 254mm) Work Access Openings |
| IV Bar with 6 Hooks | Optional |
| Magnifying Glass in Window | N/A |
| Motorized Base Stand | Optional as Separate Accessory |
| Motorized Window | N/A |
| Other Built-in Supply Filter Option(s) | N/A |
| Outlet(s) | Standard, two backwall |
| Plumbing | Optional 3/8" Soft Copper, 3/8" Black Pipe (Gas Only), or 1/2" Rigid Copper |
| Remote Service Valves | N/A |
| Seismic Brackets or Studs | Optional Rear or Floor Mount Seismic Brackets |
| Service Couplings (3/8-inch NPT) | Two Couplings on Left Side Wall and One on Right Side Wall are Standard, Maximum of Three Each Side Wall Optional |
| Service Valves (3/8-inch NPT) | One Valve on Right Side Wall is Standard, Maximum of Three Each Side Wall Optional |
| Side Panels | Optional with Plumbing out Bottom, Top or Back |
| Smooth Interior | Optional |
| Ultraviolet (UV) Light | Optional |
| Window Edge Protector | Optional |
| | |
| --- | --- |
| Access Opening Glass Type | Tempered |
| Armrest | Standard Plastic with Optional Stainless Steel |
| Cabinet Construction | All welded stainless steel 16/18 GA, Type 304 pressure tight design |
| Casters | N/A |
| Decontamination Seal-able Window | N/A |
| Diffuser | Metal, non-flammable |
| Drain Valve Location | Front right |
| Exhaust Filter | 11 1/2-inch (292 mm) 99.99% Efficiency on 0.3 microns |
| Front & Control Panel Material | Painted Steel |
| HEPA Filter Seal Type | HEPEX Zero Leak Neoprene Seal, Spring-loaded |
| Lighting | LED |
| Main Cabinet Wrap | Single Piece Stainless Steel Side and Back Wall Construction |
| Motor(s) | 1/2 HP DC ECM |
| Plenum Type | HEPEX |
| Pre-filter | N/A |
| Style | Bench top, optional base stand |
| Supply Filter | 3-inch (76mm) 99.99% Efficiency on 0.3 microns |
| Viewing Window Inches (mm) | 21 (533) open to fully closed |
| Work Access Opening(s) | 8, 10, 12-inch (203, 254, 305 mm) |
| Work Surface | One-Piece Dished Stainless Steel with Prop-Up Rod |
| Work Zone Wrap | Single Piece Stainless Steel Side and Back Wall Construction |
| | |
| --- | --- |
| Data Output Features | RS-232 |
| Remote Alarm Terminals | Standard |
| | |
| --- | --- |
| Est. Shipping Depth Inches (mm) | 43 (1092) |
| Est. Shipping Height Inches (mm) | 70 (1778) |
| Est. Shipping Width Inches (mm) | 46 (1168) |
| Exterior Depth Inches (mm) | 32 1/8 (817) |
| Exterior Depth with Armrest Removed Inches (mm) | 31 7/16 (799) |
| Exterior Height (Minimum for Transport) Inches (mm) | 59 (1499) |
| Exterior Height Inches (mm) | 60 7/8 (1546) |
| Exterior Height with 30-inch (762 mm) Work Surface Height inches (mm) | 87.375 (2219) |
| Exterior Height with 36-inch (915 mm) Work Surface Height inches (mm) | 93.375 (2371) |
| Exterior Width Inches (mm) | 41 5/8 (1057) |
| Nominal Width Feet (Meters) | 3 ft. (0.9m) |
| Useable Work Tray Area Depth Inches (mm) | 20 7/8 (530) |
| Useable Work Tray Area Width Inches (mm) | 33 7/8 (860) |
| Work Area Depth Measured at 10-inches (254 mm) Window Height Inches (mm) | 25 3/4 (654) |
| Work Area Depth Measured at 12-inches (305 mm) Window Height Inches (mm) | Inquire |
| Work Area Depth Measured at 14-inches (356 mm) Window Height Inches (mm) | N/A |
| Work Area Depth Measured at 8-inches (203 mm) Window Height Inches (mm) | Inquire |
| Work Area Height Inches (mm) | 28 1/2 (724) |
| Work Area Width Inches (mm) | 34 3/8 (873) |
| | |
| --- | --- |
| Blower/Lights Amps [10-inch (254 mm) Access Opening] | 2.3 |
| Blower/Lights Amps [12-inch (305 mm) Access Opening] | |
| Blower/Lights Amps [14-inch (356mm) Access Opening] | |
| Blower/Lights Amps [8-inch (203 mm) Access Opening] | 2.1 |
| Electrical Configuration | 115V60Hz |
| Junction Box | Optional |
| Outlet Amps | 3 |
| Power Cord | 14 GA - 3 Wire, 15A |
| Power Cord Length Foot (Meter) | 12 (3.7) |
| Rated Amps | 10 |
| | |
| --- | --- |
| Light Intensity fc (Lux) | 90-120 (968-1291) |
| Reach into workzone Inches (mm) | 6 (152) |
| Sound Pressure Level per ISO 4871 | ≤ 55dba |
| | |
| --- | --- |
| 10-inch (254 mm) Opening Exhaust Requirement for Fixed Canopy (NU-907/NU-916) CFM (CMH) | 320 (544) |
| 10-inch (254 mm) Opening Exhaust Requirement for Variable Flow Canopy (NU-911) CFM (CMH) | 276-501 (649-851) |
| 12-inch (305 mm) Opening Exhaust Requirement for Fixed Canopy (NU-907/NU-916) CFM (CMH) | 387 (650) |
| 12-inch (305 mm) Opening Exhaust Requirement for Variable Flow Canopy (NU-911) CFM (CMH) | 341-554 (576-933) |
| 14-inch (356mm) Opening Exhaust Requirement for Fixed Canopy (NU-926) CFM(CMH) | N/A |
| 14-inch (356mm) Opening Exhaust Requirement for Variable Flow Canopy (NU-911) CFM(CMH) | N/A |
| 8-inch (203 mm) Opening Exhaust Requirement for Fixed Canopy (NU-907/NU-916) CFM (CMH) | 269 (457) |
| 8-inch (203 mm) Opening Exhaust Requirement for Variable Flow Canopy (NU-911) CFM (CMH) | 255-450 (383-765) |
| Bag In Bag Out | N/A |
| Heat Rejected 10-inch (254 mm) Access Opening (BTU/Hour) | 903 |
| Heat Rejected 12-inch (305 mm) Access Opening (BTU/Hour) | Inquire |
| Heat Rejected 14-inch (356 mm) Access Opening (BTU/Hour) | N/A |
| Heat Rejected 8-inch (203 mm) Access Opening (BTU/Hour) | 826 |
| Heat Rejected Vented (BTU/Hour) | 120 |
| Other Built-in Exhaust Option(s) | N/A |
| Plant Duct Static Pressure Inches (mm) | 0.05-0.1"/1.27-2.54mm H2O |
| | |
| --- | --- |
| Australian Test Method | N/A |
| Performance Standard | NSF-ANSI-49 |
| Safety Certification | UL, UL-C |
| | |
| --- | --- |
| Air Cleanliness (ISO 14644) | ISO-Class-5 |
| Downflow fpm (m/s) | 60 fpm (0.30 m/s) |
| Fumigation: per NIH/NSF Procedures | True |
| Inflow fpm (m/s) | 105 fpm (0.53 m/s) |
| Protection | Product, Personnel, Environmental |
| | |
| --- | --- |
| Airflow Monitor | SingleAirflowSensor |
| Control System | FlowGard |
| | |
| --- | --- |
| Est. Shipping Weight lbs (kg) | 460 lbs. / 209 kg. |
| Net Weight lbs (kg) | 410 lbs. / 186 kg. |
| | |
| --- | --- |
| Blower Contact Wires | Optional |
| Closure Panels | Optional Rear Closure Panels for Seismic Brackets |
| Cord Pass Through | Standard Right |
| Double Exhaust HEPA Filter | Optional |
| Gas Supply Interlock with Blower | N/A |
| Glass Sidewalls | Optional |
| IV Bar with 6 Hooks | Optional |
| Magnifying Glass in Window | N/A |
| Motorized Base Stand | Optional as Separate Accessory |
| Motorized Window | N/A |
| Other Built-in Supply Filter Option(s) | N/A |
| Outlet(s) | Standard, two backwall |
| Plumbing | Optional 3/8" Soft Copper, 3/8" Black Pipe (Gas Only), or 1/2" Rigid Copper |
| Remote Service Valves | N/A |
| Seismic Brackets or Studs | Optional Rear or Floor Mount Seismic Brackets |
| Service Couplings (3/8-inch NPT) | Two Couplings on Left Side Wall and One on Right Side Wall are Standard, Maximum of Three Each Side Wall Optional |
| Service Valves (3/8-inch NPT) | One Valve on Right Side Wall is Standard, Maximum of Three Each Side Wall Optional |
| Side Panels | Optional with Plumbing out Bottom, Top or Back |
| Smooth Interior | N/A |
| Ultraviolet (UV) Light | Optional |
| Window Edge Protector | Optional |
| | |
| --- | --- |
| Access Opening Glass Type | Safety Glass |
| Armrest | Standard Plastic with Optional Stainless Steel |
| Cabinet Construction | All welded stainless steel 16/18 GA, Type 304 pressure tight design |
| Casters | N/A |
| Decontamination Seal-able Window | N/A |
| Diffuser | Metal, non-flammable |
| Drain Valve Location | Front right |
| Exhaust Filter | 11 1/2-inch (292 mm) 99.995% Efficiency @ MPPS |
| Front & Control Panel Material | Painted Steel |
| HEPA Filter Seal Type | HEPEX Zero Leak Neoprene Seal, Spring-loaded |
| Lighting | LED |
| Main Cabinet Wrap | Single Piece Stainless Steel Side and Back Wall Construction |
| Motor(s) | 1/2 HP DC ECM |
| Plenum Type | HEPEX |
| Pre-filter | N/A |
| Style | Bench top, optional base stand |
| Supply Filter | 3-inch (76mm) 99.995% Efficiency @ MPPS |
| Viewing Window Inches (mm) | 21 (533) open to fully closed |
| Work Access Opening(s) | 10-inch (254 mm) |
| Work Surface | One-Piece Dished Stainless Steel with Prop-Up Rod |
| Work Zone Wrap | Single Piece Stainless Steel Side and Back Wall Construction |
| | |
| --- | --- |
| Data Output Features | RS-232 |
| Remote Alarm Terminals | Standard |
| | |
| --- | --- |
| Est. Shipping Depth Inches (mm) | 43 (1092) |
| Est. Shipping Height Inches (mm) | 70 (1778) |
| Est. Shipping Width Inches (mm) | 46 (1168) |
| Exterior Depth Inches (mm) | 32 1/8 (817) |
| Exterior Depth with Armrest Removed Inches (mm) | 31 7/16 (799) |
| Exterior Height (Minimum for Transport) Inches (mm) | 59 (1499) |
| Exterior Height Inches (mm) | 60 7/8 (1546) |
| Exterior Height with 30-inch (762 mm) Work Surface Height inches (mm) | 88 3/8 (2245) |
| Exterior Height with 36-inch (915 mm) Work Surface Height inches (mm) | 94 3/8 (2397) |
| Exterior Width Inches (mm) | 41 5/8 (1057) |
| Nominal Width Feet (Meters) | 3 ft. (0.9m) |
| Useable Work Tray Area Depth Inches (mm) | 20 7/8 (530) |
| Useable Work Tray Area Width Inches (mm) | 33 7/8 (860) |
| Work Area Depth Measured at 10-inches (254 mm) Window Height Inches (mm) | 25 3/4 (654) |
| Work Area Depth Measured at 12-inches (305 mm) Window Height Inches (mm) | N/A |
| Work Area Depth Measured at 14-inches (356 mm) Window Height Inches (mm) | N/A |
| Work Area Depth Measured at 8-inches (203 mm) Window Height Inches (mm) | N/A |
| Work Area Height Inches (mm) | 28 1/2 (724) |
| Work Area Width Inches (mm) | 34 3/8 (873) |
| | |
| --- | --- |
| Blower/Lights Amps [10-inch (254 mm) Access Opening] | 2.3 |
| Blower/Lights Amps [12-inch (305 mm) Access Opening] | |
| Blower/Lights Amps [14-inch (356mm) Access Opening] | |
| Blower/Lights Amps [8-inch (203 mm) Access Opening] | |
| Electrical Configuration | 230V5060Hz |
| Junction Box | Optional |
| Outlet Amps | 3 |
| Power Cord | 14 GA - 3 Wire, 15A |
| Power Cord Length Foot (Meter) | 12 (3.7) |
| Rated Amps | 8 |
| | |
| --- | --- |
| Light Intensity fc (Lux) | 90-120 (968-1291) |
| Reach into workzone Inches (mm) | 6 (152) |
| Sound Pressure Level per ISO 4871 | ≤ 55dba |
| | |
| --- | --- |
| 10-inch (254 mm) Opening Exhaust Requirement for Fixed Canopy (NU-907/NU-916) CFM (CMH) | 320 (544) |
| 10-inch (254 mm) Opening Exhaust Requirement for Variable Flow Canopy (NU-911) CFM (CMH) | 276-501 (649-851) |
| 12-inch (305 mm) Opening Exhaust Requirement for Fixed Canopy (NU-907/NU-916) CFM (CMH) | N/A |
| 12-inch (305 mm) Opening Exhaust Requirement for Variable Flow Canopy (NU-911) CFM (CMH) | N/A |
| 14-inch (356mm) Opening Exhaust Requirement for Fixed Canopy (NU-926) CFM(CMH) | N/A |
| 14-inch (356mm) Opening Exhaust Requirement for Variable Flow Canopy (NU-911) CFM(CMH) | N/A |
| 8-inch (203 mm) Opening Exhaust Requirement for Fixed Canopy (NU-907/NU-916) CFM (CMH) | N/A |
| 8-inch (203 mm) Opening Exhaust Requirement for Variable Flow Canopy (NU-911) CFM (CMH) | N/A |
| Bag In Bag Out | N/A |
| Heat Rejected 10-inch (254 mm) Access Opening (BTU/Hour) | 903 |
| Heat Rejected 12-inch (305 mm) Access Opening (BTU/Hour) | N/A |
| Heat Rejected 14-inch (356 mm) Access Opening (BTU/Hour) | N/A |
| Heat Rejected 8-inch (203 mm) Access Opening (BTU/Hour) | N/A |
| Heat Rejected Vented (BTU/Hour) | 120 |
| Other Built-in Exhaust Option(s) | N/A |
| Plant Duct Static Pressure Inches (mm) | 0.05-0.1"/1.27-2.54mm H2O |
| | |
| --- | --- |
| Australian Test Method | Optional |
| Performance Standard | NSF-ANSI-49, EN-12469 |
| Safety Certification | |
| | |
| --- | --- |
| Air Cleanliness (ISO 14644) | ISO-Class-5 |
| Downflow fpm (m/s) | 60 fpm (0.30 m/s) |
| Fumigation: per NIH/NSF Procedures | True |
| Inflow fpm (m/s) | 105 fpm (0.53 m/s) |
| Protection | Product, Personnel, Environmental |
| | |
| --- | --- |
| Airflow Monitor | SingleAirflowSensor |
| Control System | FlowGard |
| | |
| --- | --- |
| Est. Shipping Weight lbs (kg) | 460 lbs. / 209 kg. |
| Net Weight lbs (kg) | 410 lbs. / 186 kg. |
| | |
| --- | --- |
| Blower Contact Wires | N/A |
| Closure Panels | N/A |
| Cord Pass Through | Standard Right |
| Double Exhaust HEPA Filter | N/A |
| Gas Supply Interlock with Blower | N/A |
| Glass Sidewalls | N/A |
| IV Bar with 6 Hooks | Optional |
| Magnifying Glass in Window | N/A |
| Motorized Base Stand | Optional as Separate Accessory |
| Motorized Window | N/A |
| Other Built-in Supply Filter Option(s) | N/A |
| Outlet(s) | Standard, two backwall |
| Plumbing | N/A |
| Remote Service Valves | N/A |
| Seismic Brackets or Studs | N/A |
| Service Couplings (3/8-inch NPT) | Two Couplings on Left Side Wall and One on Right Side Wall are Standard, Maximum of Two Each Side Wall Optional |
| Service Valves (3/8-inch NPT) | One Valve on Right Side Wall is Standard, Maximum of Two Each Side Wall Optional |
| Side Panels | N/A |
| Smooth Interior | N/A |
| Ultraviolet (UV) Light | Optional |
| Window Edge Protector | N/A |
| | |
| --- | --- |
| Access Opening Glass Type | Safety Glass |
| Armrest | Plastic |
| Cabinet Construction | All welded stainless steel 16/18 GA, Type 304 pressure tight design |
| Casters | N/A |
| Decontamination Seal-able Window | N/A |
| Diffuser | Metal, non-flammable |
| Drain Valve Location | Front right |
| Exhaust Filter | 11 1/2-inch (292 mm) 99.995% Efficiency @ MPPS |
| Front & Control Panel Material | Painted Steel |
| HEPA Filter Seal Type | HEPEX Zero Leak Neoprene Seal, Spring-loaded |
| Lighting | LED |
| Main Cabinet Wrap | Seam Welded Stainless Steel Side and Back Wall Construction |
| Motor(s) | 1/2 HP DC ECM |
| Plenum Type | HEPEX |
| Pre-filter | N/A |
| Style | Bench top, optional base stand |
| Supply Filter | 3-inch (76mm) 99.995% Efficiency @ MPPS |
| Viewing Window Inches (mm) | 21 (533) open to fully closed |
| Work Access Opening(s) | 10-inch (254 mm) |
| Work Surface | One-Piece Dished Stainless Steel with Prop-Up Rod |
| Work Zone Wrap | Single Piece Stainless Steel Side and Back Wall Construction |
| | |
| --- | --- |
| Data Output Features | RS-232 |
| Remote Alarm Terminals | Standard |
| | |
| --- | --- |
| Est. Shipping Depth Inches (mm) | 41.3 (1050mm) |
| Est. Shipping Height Inches (mm) | 76.8 (1950mm) |
| Est. Shipping Width Inches (mm) | 49.2 (1250mm) |
| Exterior Depth Inches (mm) | 32 3/16 (817) |
| Exterior Depth with Armrest Removed Inches (mm) | 31 7/16 (799) |
| Exterior Height (Minimum for Transport) Inches (mm) | 59 (1499) |
| Exterior Height Inches (mm) | 60 7/8 (1546) |
| Exterior Height with 30-inch (762 mm) Work Surface Height inches (mm) | 87 3/8 (2219) |
| Exterior Height with 36-inch (915 mm) Work Surface Height inches (mm) | 93 3/8 (2372) |
| Exterior Width Inches (mm) | 41 5/8 (1057) |
| Nominal Width Feet (Meters) | 3 ft. (0.9m) |
| Useable Work Tray Area Depth Inches (mm) | 20 7/8 (530) |
| Useable Work Tray Area Width Inches (mm) | 33 7/8 (860) |
| Work Area Depth Measured at 10-inches (254 mm) Window Height Inches (mm) | 25 3/4 (654) |
| Work Area Depth Measured at 12-inches (305 mm) Window Height Inches (mm) | N/A |
| Work Area Depth Measured at 14-inches (356 mm) Window Height Inches (mm) | N/A |
| Work Area Depth Measured at 8-inches (203 mm) Window Height Inches (mm) | N/A |
| Work Area Height Inches (mm) | 28 1/2 (724) |
| Work Area Width Inches (mm) | 34 3/8 (873) |
| | |
| --- | --- |
| Blower/Lights Amps [10-inch (254 mm) Access Opening] | 2.3 |
| Blower/Lights Amps [12-inch (305 mm) Access Opening] | |
| Blower/Lights Amps [14-inch (356mm) Access Opening] | |
| Blower/Lights Amps [8-inch (203 mm) Access Opening] | |
| Electrical Configuration | 100V5060Hz |
| Junction Box | N/A |
| Outlet Amps | 2 |
| Power Cord | 14 GA - 3 Wire, 15A |
| Power Cord Length Foot (Meter) | 12 (3.7) |
| Rated Amps | 7 |
| | |
| --- | --- |
| Light Intensity fc (Lux) | 90-120 (968-1291) |
| Reach into workzone Inches (mm) | 6 (152) |
| Sound Pressure Level per ISO 4871 | Inquire |
| | |
| --- | --- |
| 10-inch (254 mm) Opening Exhaust Requirement for Fixed Canopy (NU-907/NU-916) CFM (CMH) | 320 (544) |
| 10-inch (254 mm) Opening Exhaust Requirement for Variable Flow Canopy (NU-911) CFM (CMH) | 276-501 (649-851) |
| 12-inch (305 mm) Opening Exhaust Requirement for Fixed Canopy (NU-907/NU-916) CFM (CMH) | N/A |
| 12-inch (305 mm) Opening Exhaust Requirement for Variable Flow Canopy (NU-911) CFM (CMH) | N/A |
| 14-inch (356mm) Opening Exhaust Requirement for Fixed Canopy (NU-926) CFM(CMH) | N/A |
| 14-inch (356mm) Opening Exhaust Requirement for Variable Flow Canopy (NU-911) CFM(CMH) | N/A |
| 8-inch (203 mm) Opening Exhaust Requirement for Fixed Canopy (NU-907/NU-916) CFM (CMH) | N/A |
| 8-inch (203 mm) Opening Exhaust Requirement for Variable Flow Canopy (NU-911) CFM (CMH) | N/A |
| Bag In Bag Out | N/A |
| Heat Rejected 10-inch (254 mm) Access Opening (BTU/Hour) | 903 |
| Heat Rejected 12-inch (305 mm) Access Opening (BTU/Hour) | N/A |
| Heat Rejected 14-inch (356 mm) Access Opening (BTU/Hour) | N/A |
| Heat Rejected 8-inch (203 mm) Access Opening (BTU/Hour) | N/A |
| Heat Rejected Vented (BTU/Hour) | 120 |
| Other Built-in Exhaust Option(s) | N/A |
| Plant Duct Static Pressure Inches (mm) | 0.05-0.1"/1.27-2.54mm H2O |
| | |
| --- | --- |
| Australian Test Method | N/A |
| Performance Standard | NSF-ANSI-49 |
| Safety Certification | UL, UL-C |
| | |
| --- | --- |
| Air Cleanliness (ISO 14644) | ISO-Class-5 |
| Downflow fpm (m/s) | 60 fpm (0.30 m/s) |
| Fumigation: per NIH/NSF Procedures | True |
| Inflow fpm (m/s) | 105 fpm (0.53 m/s) |
| Protection | Product, Personnel, Environmental |
| | |
| --- | --- |
| Airflow Monitor | SingleAirflowSensor |
| Control System | FlowGard |
| | |
| --- | --- |
| Est. Shipping Weight lbs (kg) | 460 lbs. / 209 kg. |
| Net Weight lbs (kg) | 410 lbs. / 186 kg. |
| | |
| --- | --- |
| Blower Contact Wires | N/A |
| Closure Panels | N/A |
| Cord Pass Through | Standard Right |
| Double Exhaust HEPA Filter | N/A |
| Gas Supply Interlock with Blower | N/A |
| Glass Sidewalls | N/A |
| IV Bar with 6 Hooks | Optional |
| Magnifying Glass in Window | N/A |
| Motorized Base Stand | Optional as Separate Accessory |
| Motorized Window | N/A |
| Other Built-in Supply Filter Option(s) | N/A |
| Outlet(s) | Standard, two backwall |
| Plumbing | N/A |
| Remote Service Valves | N/A |
| Seismic Brackets or Studs | N/A |
| Service Couplings (3/8-inch NPT) | Two Couplings on Left Side Wall and One on Right Side Wall are Standard, Maximum of Two Each Side Wall Optional |
| Service Valves (3/8-inch NPT) | One Valve on Right Side Wall is Standard, Maximum of Two Each Side Wall Optional |
| Side Panels | N/A |
| Smooth Interior | N/A |
| Ultraviolet (UV) Light | Optional |
| Window Edge Protector | N/A |
| | |
| --- | --- |
| Access Opening Glass Type | Safety Glass |
| Armrest | Plastic |
| Cabinet Construction | All welded stainless steel 16/18 GA, Type 304 pressure tight design |
| Casters | N/A |
| Decontamination Seal-able Window | N/A |
| Diffuser | Metal, non-flammable |
| Drain Valve Location | Front right |
| Exhaust Filter | 11 1/2-inch (292 mm) 99.995% Efficiency @ MPPS |
| Front & Control Panel Material | Painted Steel |
| HEPA Filter Seal Type | HEPEX Zero Leak Neoprene Seal, Spring-loaded |
| Lighting | LED |
| Main Cabinet Wrap | Seam Welded Stainless Steel Side and Back Wall Construction |
| Motor(s) | 1/2 HP DC ECM |
| Plenum Type | HEPEX |
| Pre-filter | N/A |
| Style | Bench top, optional base stand |
| Supply Filter | 3-inch (76mm) 99.995% Efficiency @ MPPS |
| Viewing Window Inches (mm) | 21 (533) open to fully closed |
| Work Access Opening(s) | 10-inch (254 mm) |
| Work Surface | One-Piece Dished Stainless Steel with Prop-Up Rod |
| Work Zone Wrap | Single Piece Stainless Steel Side and Back Wall Construction |
| | |
| --- | --- |
| Data Output Features | RS-232 |
| Remote Alarm Terminals | Standard |
| | |
| --- | --- |
| Est. Shipping Depth Inches (mm) | 41.3 (1050mm) |
| Est. Shipping Height Inches (mm) | 76.8 (1950mm) |
| Est. Shipping Width Inches (mm) | 49.2 (1250mm) |
| Exterior Depth Inches (mm) | 32 3/16 (817) |
| Exterior Depth with Armrest Removed Inches (mm) | 31 7/16 (799) |
| Exterior Height (Minimum for Transport) Inches (mm) | 59 (1499) |
| Exterior Height Inches (mm) | 60 7/8 (1546) |
| Exterior Height with 30-inch (762 mm) Work Surface Height inches (mm) | 87 3/8 (2219) |
| Exterior Height with 36-inch (915 mm) Work Surface Height inches (mm) | 93 3/8 (2372) |
| Exterior Width Inches (mm) | 41 5/8 (1057) |
| Nominal Width Feet (Meters) | 3 ft. (0.9m) |
| Useable Work Tray Area Depth Inches (mm) | 20 7/8 (530) |
| Useable Work Tray Area Width Inches (mm) | 33 7/8 (860) |
| Work Area Depth Measured at 10-inches (254 mm) Window Height Inches (mm) | 25 3/4 (654) |
| Work Area Depth Measured at 12-inches (305 mm) Window Height Inches (mm) | N/A |
| Work Area Depth Measured at 14-inches (356 mm) Window Height Inches (mm) | N/A |
| Work Area Depth Measured at 8-inches (203 mm) Window Height Inches (mm) | N/A |
| Work Area Height Inches (mm) | 28 1/2 (724) |
| Work Area Width Inches (mm) | 34 3/8 (873) |
| | |
| --- | --- |
| Blower/Lights Amps [10-inch (254 mm) Access Opening] | 2.3 |
| Blower/Lights Amps [12-inch (305 mm) Access Opening] | |
| Blower/Lights Amps [14-inch (356mm) Access Opening] | |
| Blower/Lights Amps [8-inch (203 mm) Access Opening] | |
| Electrical Configuration | 115V60Hz |
| Junction Box | N/A |
| Outlet Amps | 3 |
| Power Cord | 14 GA - 3 Wire, 15A |
| Power Cord Length Foot (Meter) | 12 (3.7) |
| Rated Amps | 10 |
| | |
| --- | --- |
| Light Intensity fc (Lux) | 90-120 (968-1291) |
| Reach into workzone Inches (mm) | 6 (152) |
| Sound Pressure Level per ISO 4871 | Inquire |
| | |
| --- | --- |
| 10-inch (254 mm) Opening Exhaust Requirement for Fixed Canopy (NU-907/NU-916) CFM (CMH) | 320 (544) |
| 10-inch (254 mm) Opening Exhaust Requirement for Variable Flow Canopy (NU-911) CFM (CMH) | 276-501 (649-851) |
| 12-inch (305 mm) Opening Exhaust Requirement for Fixed Canopy (NU-907/NU-916) CFM (CMH) | N/A |
| 12-inch (305 mm) Opening Exhaust Requirement for Variable Flow Canopy (NU-911) CFM (CMH) | N/A |
| 14-inch (356mm) Opening Exhaust Requirement for Fixed Canopy (NU-926) CFM(CMH) | N/A |
| 14-inch (356mm) Opening Exhaust Requirement for Variable Flow Canopy (NU-911) CFM(CMH) | N/A |
| 8-inch (203 mm) Opening Exhaust Requirement for Fixed Canopy (NU-907/NU-916) CFM (CMH) | N/A |
| 8-inch (203 mm) Opening Exhaust Requirement for Variable Flow Canopy (NU-911) CFM (CMH) | N/A |
| Bag In Bag Out | N/A |
| Heat Rejected 10-inch (254 mm) Access Opening (BTU/Hour) | 903 |
| Heat Rejected 12-inch (305 mm) Access Opening (BTU/Hour) | N/A |
| Heat Rejected 14-inch (356 mm) Access Opening (BTU/Hour) | N/A |
| Heat Rejected 8-inch (203 mm) Access Opening (BTU/Hour) | N/A |
| Heat Rejected Vented (BTU/Hour) | 120 |
| Other Built-in Exhaust Option(s) | N/A |
| Plant Duct Static Pressure Inches (mm) | 0.05-0.1"/1.27-2.54mm H2O |
| | |
| --- | --- |
| Australian Test Method | N/A |
| Performance Standard | NSF-ANSI-49 |
| Safety Certification | UL, UL-C |
| | |
| --- | --- |
| Air Cleanliness (ISO 14644) | ISO-Class-5 |
| Downflow fpm (m/s) | 60 fpm (0.30 m/s) |
| Fumigation: per NIH/NSF Procedures | True |
| Inflow fpm (m/s) | 105 fpm (0.53 m/s) |
| Protection | Product, Personnel, Environmental |
| | |
| --- | --- |
| Airflow Monitor | SingleAirflowSensor |
| Control System | FlowGard |
| | |
| --- | --- |
| Est. Shipping Weight lbs (kg) | 460 (209) |
| Net Weight lbs (kg) | 410 (186) |
| | |
| --- | --- |
| Blower Contact Wires | N/A |
| Closure Panels | N/A |
| Cord Pass Through | Standard Right |
| Double Exhaust HEPA Filter | Optional |
| Gas Supply Interlock with Blower | N/A |
| Glass Sidewalls | N/A |
| IV Bar with 6 Hooks | Optional |
| Magnifying Glass in Window | N/A |
| Motorized Base Stand | Optional as Separate Accessory |
| Motorized Window | N/A |
| Other Built-in Supply Filter Option(s) | N/A |
| Outlet(s) | Standard, two backwall |
| Plumbing | N/A |
| Remote Service Valves | N/A |
| Seismic Brackets or Studs | N/A |
| Service Couplings (3/8-inch NPT) | Two Couplings on Left Side Wall and One on Right Side Wall are Standard, Maximum of Two Each Side Wall Optional |
| Service Valves (3/8-inch NPT) | One Valve on Right Side Wall is Standard, Maximum of Two Each Side Wall Optional |
| Side Panels | N/A |
| Smooth Interior | N/A |
| Ultraviolet (UV) Light | Optional |
| Window Edge Protector | N/A |
| | |
| --- | --- |
| Access Opening Glass Type | Safety Glass |
| Armrest | Plastic |
| Cabinet Construction | All welded stainless steel 16/18 GA, Type 304 pressure tight design |
| Casters | N/A |
| Decontamination Seal-able Window | N/A |
| Diffuser | Metal, non-flammable |
| Drain Valve Location | Front right |
| Exhaust Filter | 11 1/2-inch (292 mm) 99.995% Efficiency @ MPPS |
| Front & Control Panel Material | Painted Steel |
| HEPA Filter Seal Type | HEPEX Zero Leak Neoprene Seal, Spring-loaded |
| Lighting | LED |
| Main Cabinet Wrap | Seam Welded Stainless Steel Side and Back Wall Construction |
| Motor(s) | 1/2 HP DC ECM |
| Plenum Type | HEPEX |
| Pre-filter | N/A |
| Style | Bench top, optional base stand |
| Supply Filter | 3-inch (76mm) 99.995% Efficiency @ MPPS |
| Viewing Window Inches (mm) | 21 (533) open to fully closed |
| Work Access Opening(s) | 10-inch (254 mm) |
| Work Surface | One-Piece Dished Stainless Steel with Prop-Up Rod |
| Work Zone Wrap | Single Piece Stainless Steel Side and Back Wall Construction |
| | |
| --- | --- |
| Data Output Features | RS-232 |
| Remote Alarm Terminals | Standard |
| | |
| --- | --- |
| Est. Shipping Depth Inches (mm) | 41.3 (1050mm) |
| Est. Shipping Height Inches (mm) | 76.8 (1950mm) |
| Est. Shipping Width Inches (mm) | 49.2 (1250mm) |
| Exterior Depth Inches (mm) | 32 3/16 (817) |
| Exterior Depth with Armrest Removed Inches (mm) | 31 7/16 (799) |
| Exterior Height (Minimum for Transport) Inches (mm) | 59 (1499) |
| Exterior Height Inches (mm) | 60 7/8 (1546) |
| Exterior Height with 30-inch (762 mm) Work Surface Height inches (mm) | 87 3/8 (2219) |
| Exterior Height with 36-inch (915 mm) Work Surface Height inches (mm) | 93 3/8 (2372) |
| Exterior Width Inches (mm) | 41 5/8 (1056) |
| Nominal Width Feet (Meters) | 3 ft. (0.9m) |
| Useable Work Tray Area Depth Inches (mm) | 20 7/8 (530) |
| Useable Work Tray Area Width Inches (mm) | 33 7/8 (860) |
| Work Area Depth Measured at 10-inches (254 mm) Window Height Inches (mm) | 25 3/4 (654) |
| Work Area Depth Measured at 12-inches (305 mm) Window Height Inches (mm) | N/A |
| Work Area Depth Measured at 14-inches (356 mm) Window Height Inches (mm) | N/A |
| Work Area Depth Measured at 8-inches (203 mm) Window Height Inches (mm) | N/A |
| Work Area Height Inches (mm) | 28 1/2 (724) |
| Work Area Width Inches (mm) | 34 3/8 (872) |
| | |
| --- | --- |
| Blower/Lights Amps [10-inch (254 mm) Access Opening] | 2.3 |
| Blower/Lights Amps [12-inch (305 mm) Access Opening] | |
| Blower/Lights Amps [14-inch (356mm) Access Opening] | |
| Blower/Lights Amps [8-inch (203 mm) Access Opening] | |
| Electrical Configuration | 230V5060Hz |
| Junction Box | N/A |
| Outlet Amps | 3 |
| Power Cord | Single 12-foot (3.7m) 14 GA - 3 Wire, 15A |
| Power Cord Length Foot (Meter) | 12 (3.7) |
| Rated Amps | 8 |
| | |
| --- | --- |
| Light Intensity fc (Lux) | 90-120 (968-1291) |
| Reach into workzone Inches (mm) | 6 (152) |
| Sound Pressure Level per ISO 4871 | ≤ 55dba |
| | |
| --- | --- |
| 10-inch (254 mm) Opening Exhaust Requirement for Fixed Canopy (NU-907/NU-916) CFM (CMH) | 320 (544) |
| 10-inch (254 mm) Opening Exhaust Requirement for Variable Flow Canopy (NU-911) CFM (CMH) | 276-501 (649-851) |
| 12-inch (305 mm) Opening Exhaust Requirement for Fixed Canopy (NU-907/NU-916) CFM (CMH) | N/A |
| 12-inch (305 mm) Opening Exhaust Requirement for Variable Flow Canopy (NU-911) CFM (CMH) | N/A |
| 14-inch (356mm) Opening Exhaust Requirement for Fixed Canopy (NU-926) CFM(CMH) | N/A |
| 14-inch (356mm) Opening Exhaust Requirement for Variable Flow Canopy (NU-911) CFM(CMH) | N/A |
| 8-inch (203 mm) Opening Exhaust Requirement for Fixed Canopy (NU-907/NU-916) CFM (CMH) | N/A |
| 8-inch (203 mm) Opening Exhaust Requirement for Variable Flow Canopy (NU-911) CFM (CMH) | N/A |
| Bag In Bag Out | N/A |
| Heat Rejected 10-inch (254 mm) Access Opening (BTU/Hour) | 903 |
| Heat Rejected 12-inch (305 mm) Access Opening (BTU/Hour) | N/A |
| Heat Rejected 14-inch (356 mm) Access Opening (BTU/Hour) | N/A |
| Heat Rejected 8-inch (203 mm) Access Opening (BTU/Hour) | N/A |
| Heat Rejected Vented (BTU/Hour) | 120 |
| Other Built-in Exhaust Option(s) | N/A |
| Plant Duct Static Pressure Inches (mm) | 0.05-0.1" (1.27-2.54) |
| | |
| --- | --- |
| Australian Test Method | Optional |
| Performance Standard | NSF-ANSI-49, EN-12469 |
| Safety Certification | UL, UL-C |
| | |
| --- | --- |
| Air Cleanliness (ISO 14644) | ISO-Class-5 |
| Downflow fpm (m/s) | 60 fpm (0.30 m/s) |
| Fumigation: per NIH/NSF Procedures | True |
| Inflow fpm (m/s) | 105 fpm (0.53 m/s) |
| Protection | Product, Personnel, Environmental |
| | |
| --- | --- |
| Airflow Monitor | SingleAirflowSensor |
| Control System | FlowGard |
| | |
| --- | --- |
| Est. Shipping Weight lbs (kg) | 460 (209) |
| Net Weight lbs (kg) | 410 (186) |
| | |
| --- | --- |
| Blower Contact Wires | Optional |
| Closure Panels | Optional Rear Closure Panels for Seismic Brackets |
| Cord Pass Through | Standard Right |
| Double Exhaust HEPA Filter | N/A |
| Gas Supply Interlock with Blower | N/A |
| Glass Sidewalls | Optional with 8 or 10 inch (203 or 254mm) Work Access Openings |
| IV Bar with 6 Hooks | Optional |
| Magnifying Glass in Window | N/A |
| Motorized Base Stand | Optional as Separate Accessory |
| Motorized Window | N/A |
| Other Built-in Supply Filter Option(s) | N/A |
| Outlet(s) | Standard, two backwall |
| Plumbing | Optional 3/8" Soft Copper, 3/8" Black Pipe (Gas Only), or 1/2" Rigid Copper |
| Remote Service Valves | N/A |
| Seismic Brackets or Studs | Optional Rear or Floor Mount Seismic Brackets |
| Service Couplings (3/8-inch NPT) | Two Couplings on Left Side Wall and One on Right Side Wall are Standard, Maximum of Three Each Side Wall Optional |
| Service Valves (3/8-inch NPT) | One Valve on Right Side Wall is Standard, Maximum of Three Each Side Wall Optional |
| Side Panels | Optional with Plumbing out Bottom, Top or Back |
| Smooth Interior | Optional |
| Ultraviolet (UV) Light | Optional |
| Window Edge Protector | Optional |
| | |
| --- | --- |
| Access Opening Glass Type | Tempered |
| Armrest | Standard Plastic with Optional Stainless Steel |
| Cabinet Construction | All welded stainless steel 16/18 GA, Type 304 pressure tight design |
| Casters | N/A |
| Decontamination Seal-able Window | N/A |
| Diffuser | Metal, non-flammable |
| Drain Valve Location | Front right |
| Exhaust Filter | 11 1/2-inch (292 mm) 99.99% Efficiency on 0.3 microns |
| Front & Control Panel Material | Painted Steel |
| HEPA Filter Seal Type | HEPEX Zero Leak Neoprene Seal, Spring-loaded |
| Lighting | LED |
| Main Cabinet Wrap | Single Piece Stainless Steel Side and Back Wall Construction |
| Motor(s) | 3/4 HP DC ECM |
| Plenum Type | HEPEX |
| Pre-filter | N/A |
| Style | Bench top, optional base stand |
| Supply Filter | 3-inch (76mm) 99.99% Efficiency on 0.3 microns |
| Viewing Window Inches (mm) | 21 (533) open to fully closed |
| Work Access Opening(s) | 8, 10, 12-inch (203, 254, 305 mm) |
| Work Surface | One-Piece Dished Stainless Steel with Prop-Up Rod |
| Work Zone Wrap | Single Piece Stainless Steel Side and Back Wall Construction |
| | |
| --- | --- |
| Data Output Features | RS-232 |
| Remote Alarm Terminals | Standard |
| | |
| --- | --- |
| Est. Shipping Depth Inches (mm) | 43 (1092) |
| Est. Shipping Height Inches (mm) | 70 (1778) |
| Est. Shipping Width Inches (mm) | 58 (1473) |
| Exterior Depth Inches (mm) | 32 1/8 (817) |
| Exterior Depth with Armrest Removed Inches (mm) | 31 7/16 (799) |
| Exterior Height (Minimum for Transport) Inches (mm) | 59 (1499) |
| Exterior Height Inches (mm) | 60 7/8 (1546) |
| Exterior Height with 30-inch (762 mm) Work Surface Height inches (mm) | 87.375 (2219) |
| Exterior Height with 36-inch (915 mm) Work Surface Height inches (mm) | 93.375 (2371) |
| Exterior Width Inches (mm) | 53 5/8 (1362) |
| Nominal Width Feet (Meters) | 4 (1.2) |
| Useable Work Tray Area Depth Inches (mm) | 20 7/8 (530) |
| Useable Work Tray Area Width Inches (mm) | 45 7/8 (1165) |
| Work Area Depth Measured at 10-inches (254 mm) Window Height Inches (mm) | 25 3/4 (654) |
| Work Area Depth Measured at 12-inches (305 mm) Window Height Inches (mm) | Inquire |
| Work Area Depth Measured at 14-inches (356 mm) Window Height Inches (mm) | N/A |
| Work Area Depth Measured at 8-inches (203 mm) Window Height Inches (mm) | Inquire |
| Work Area Height Inches (mm) | 28 1/2 (724) |
| Work Area Width Inches (mm) | 46 3/8 (1178) |
| | |
| --- | --- |
| Blower/Lights Amps [10-inch (254 mm) Access Opening] | 2.9 |
| Blower/Lights Amps [12-inch (305 mm) Access Opening] | 3.2 |
| Blower/Lights Amps [14-inch (356mm) Access Opening] | |
| Blower/Lights Amps [8-inch (203 mm) Access Opening] | 2.6 |
| Electrical Configuration | 115V60Hz |
| Junction Box | Optional |
| Outlet Amps | 3 |
| Power Cord | 12 gauge - 3 Wire, 20A |
| Power Cord Length Foot (Meter) | 12 (3.7) |
| Rated Amps | 14 |
| | |
| --- | --- |
| Light Intensity fc (Lux) | 90-120 (968-1291) |
| Reach into workzone Inches (mm) | 6 (152) |
| Sound Pressure Level per ISO 4871 | ≤ 56 dba |
| | |
| --- | --- |
| 10-inch (254 mm) Opening Exhaust Requirement for Fixed Canopy (NU-907/NU-916) CFM (CMH) | 426 (724) |
| 10-inch (254 mm) Opening Exhaust Requirement for Variable Flow Canopy (NU-911) CFM (CMH) | 363-588 (617-1000) |
| 12-inch (305 mm) Opening Exhaust Requirement for Fixed Canopy (NU-907/NU-916) CFM (CMH) | 483 (821) |
| 12-inch (305 mm) Opening Exhaust Requirement for Variable Flow Canopy (NU-911) CFM (CMH) | 430-655 (731-1113) |
| 14-inch (356mm) Opening Exhaust Requirement for Fixed Canopy (NU-926) CFM(CMH) | N/A |
| 14-inch (356mm) Opening Exhaust Requirement for Variable Flow Canopy (NU-911) CFM(CMH) | N/A |
| 8-inch (203 mm) Opening Exhaust Requirement for Fixed Canopy (NU-907/NU-916) CFM (CMH) | 359 (610) |
| 8-inch (203 mm) Opening Exhaust Requirement for Variable Flow Canopy (NU-911) CFM (CMH) | 295-520 (502-884) |
| Bag In Bag Out | N/A |
| Heat Rejected 10-inch (254 mm) Access Opening (BTU/Hour) | 1140 |
| Heat Rejected 12-inch (305 mm) Access Opening (BTU/Hour) | 1256 |
| Heat Rejected 14-inch (356 mm) Access Opening (BTU/Hour) | N/A |
| Heat Rejected 8-inch (203 mm) Access Opening (BTU/Hour) | 1020 |
| Heat Rejected Vented (BTU/Hour) | 157 |
| Other Built-in Exhaust Option(s) | N/A |
| Plant Duct Static Pressure Inches (mm) | 0.05-0.1"/1.27-2.54mm H2O |
| | |
| --- | --- |
| Australian Test Method | N/A |
| Performance Standard | NSF-ANSI-49 |
| Safety Certification | UL, UL-C |
| | |
| --- | --- |
| Air Cleanliness (ISO 14644) | ISO-Class-5 |
| Downflow fpm (m/s) | 60 fpm (0.30 m/s) |
| Fumigation: per NIH/NSF Procedures | True |
| Inflow fpm (m/s) | 105 fpm (0.53 m/s) |
| Protection | Product, Personnel, Environmental |
| | |
| --- | --- |
| Airflow Monitor | SingleAirflowSensor |
| Control System | FlowGard |
| | |
| --- | --- |
| Est. Shipping Weight lbs (kg) | 530 lbs. / 240 kg. |
| Net Weight lbs (kg) | 480 lbs. / 218 kg. |
| | |
| --- | --- |
| Blower Contact Wires | Optional |
| Closure Panels | Optional Rear Closure Panels for Seismic Brackets |
| Cord Pass Through | Standard Right |
| Double Exhaust HEPA Filter | Optional |
| Gas Supply Interlock with Blower | N/A |
| Glass Sidewalls | Optional |
| IV Bar with 6 Hooks | Optional |
| Magnifying Glass in Window | N/A |
| Motorized Base Stand | Optional as Separate Accessory |
| Motorized Window | N/A |
| Other Built-in Supply Filter Option(s) | N/A |
| Outlet(s) | Standard, two backwall |
| Plumbing | Optional 3/8" Soft Copper, 3/8" Black Pipe (Gas Only), or 1/2" Rigid Copper |
| Remote Service Valves | N/A |
| Seismic Brackets or Studs | Optional Rear or Floor Mount Seismic Brackets |
| Service Couplings (3/8-inch NPT) | Two Couplings on Left Side Wall and One on Right Side Wall are Standard, Maximum of Three Each Side Wall Optional |
| Service Valves (3/8-inch NPT) | One Valve on Right Side Wall is Standard, Maximum of Three Each Side Wall Optional |
| Side Panels | Optional with Plumbing out Bottom, Top or Back |
| Smooth Interior | N/A |
| Ultraviolet (UV) Light | Optional |
| Window Edge Protector | Optional |
| | |
| --- | --- |
| Access Opening Glass Type | Safety Glass |
| Armrest | Standard Plastic with Optional Stainless Steel |
| Cabinet Construction | All welded stainless steel 16/18 GA, Type 304 pressure tight design |
| Casters | N/A |
| Decontamination Seal-able Window | N/A |
| Diffuser | Metal, non-flammable |
| Drain Valve Location | Front right |
| Exhaust Filter | 11 1/2-inch (292 mm) 99.995% Efficiency @ MPPS |
| Front & Control Panel Material | Painted Steel |
| HEPA Filter Seal Type | HEPEX Zero Leak Neoprene Seal, Spring-loaded |
| Lighting | LED |
| Main Cabinet Wrap | Single Piece Stainless Steel Side and Back Wall Construction |
| Motor(s) | 3/4 HP DC ECM |
| Plenum Type | HEPEX |
| Pre-filter | N/A |
| Style | Bench top, optional base stand |
| Supply Filter | 3-inch (76mm) 99.995% Efficiency @ MPPS |
| Viewing Window Inches (mm) | 21 (533) open to fully closed |
| Work Access Opening(s) | 10-inch (254 mm) |
| Work Surface | One-Piece Dished Stainless Steel with Prop-Up Rod |
| Work Zone Wrap | Single Piece Stainless Steel Side and Back Wall Construction |
| | |
| --- | --- |
| Data Output Features | RS-232 |
| Remote Alarm Terminals | Standard |
| | |
| --- | --- |
| Est. Shipping Depth Inches (mm) | 43 (1092) |
| Est. Shipping Height Inches (mm) | 70 (1778) |
| Est. Shipping Width Inches (mm) | 58 (1473) |
| Exterior Depth Inches (mm) | 32 1/8 (817) |
| Exterior Depth with Armrest Removed Inches (mm) | 31 7/16 (799) |
| Exterior Height (Minimum for Transport) Inches (mm) | 59 (1499) |
| Exterior Height Inches (mm) | 60 7/8 (1546) |
| Exterior Height with 30-inch (762 mm) Work Surface Height inches (mm) | 88 3/8 (2245) |
| Exterior Height with 36-inch (915 mm) Work Surface Height inches (mm) | 94 3/8 (2397) |
| Exterior Width Inches (mm) | 53 5/8 (1362) |
| Nominal Width Feet (Meters) | 4 ft. (1.2m) |
| Useable Work Tray Area Depth Inches (mm) | 20 7/8 (530) |
| Useable Work Tray Area Width Inches (mm) | 45 7/8 (1165) |
| Work Area Depth Measured at 10-inches (254 mm) Window Height Inches (mm) | 25 3/4 (654) |
| Work Area Depth Measured at 12-inches (305 mm) Window Height Inches (mm) | N/A |
| Work Area Depth Measured at 14-inches (356 mm) Window Height Inches (mm) | N/A |
| Work Area Depth Measured at 8-inches (203 mm) Window Height Inches (mm) | N/A |
| Work Area Height Inches (mm) | 28 1/2 (724) |
| Work Area Width Inches (mm) | 46 3/8 (1178) |
| | |
| --- | --- |
| Blower/Lights Amps [10-inch (254 mm) Access Opening] | 2.9 |
| Blower/Lights Amps [12-inch (305 mm) Access Opening] | |
| Blower/Lights Amps [14-inch (356mm) Access Opening] | |
| Blower/Lights Amps [8-inch (203 mm) Access Opening] | |
| Electrical Configuration | 230V5060Hz |
| Junction Box | Optional |
| Outlet Amps | 3 |
| Power Cord | 14 gauge - 3 Wire, 15A |
| Power Cord Length Foot (Meter) | 12 (3.7) |
| Rated Amps | 10 |
| | |
| --- | --- |
| Light Intensity fc (Lux) | 90-120 (968-1291) |
| Reach into workzone Inches (mm) | 6 (152) |
| Sound Pressure Level per ISO 4871 | ≤ 56 dba |
| | |
| --- | --- |
| 10-inch (254 mm) Opening Exhaust Requirement for Fixed Canopy (NU-907/NU-916) CFM (CMH) | 426 (724) |
| 10-inch (254 mm) Opening Exhaust Requirement for Variable Flow Canopy (NU-911) CFM (CMH) | 363-588 (617-1000) |
| 12-inch (305 mm) Opening Exhaust Requirement for Fixed Canopy (NU-907/NU-916) CFM (CMH) | N/A |
| 12-inch (305 mm) Opening Exhaust Requirement for Variable Flow Canopy (NU-911) CFM (CMH) | N/A |
| 14-inch (356mm) Opening Exhaust Requirement for Fixed Canopy (NU-926) CFM(CMH) | N/A |
| 14-inch (356mm) Opening Exhaust Requirement for Variable Flow Canopy (NU-911) CFM(CMH) | N/A |
| 8-inch (203 mm) Opening Exhaust Requirement for Fixed Canopy (NU-907/NU-916) CFM (CMH) | N/A |
| 8-inch (203 mm) Opening Exhaust Requirement for Variable Flow Canopy (NU-911) CFM (CMH) | N/A |
| Bag In Bag Out | N/A |
| Heat Rejected 10-inch (254 mm) Access Opening (BTU/Hour) | 1140 |
| Heat Rejected 12-inch (305 mm) Access Opening (BTU/Hour) | N/A |
| Heat Rejected 14-inch (356 mm) Access Opening (BTU/Hour) | N/A |
| Heat Rejected 8-inch (203 mm) Access Opening (BTU/Hour) | N/A |
| Heat Rejected Vented (BTU/Hour) | 157 |
| Other Built-in Exhaust Option(s) | N/A |
| Plant Duct Static Pressure Inches (mm) | 0.05-0.1"/1.27-2.54mm H2O |
| | |
| --- | --- |
| Australian Test Method | Optional |
| Performance Standard | NSF-ANSI-49, EN-12469 |
| Safety Certification | |
| | |
| --- | --- |
| Air Cleanliness (ISO 14644) | ISO-Class-5 |
| Downflow fpm (m/s) | 60 fpm (0.30 m/s) |
| Fumigation: per NIH/NSF Procedures | True |
| Inflow fpm (m/s) | 105 fpm (0.53 m/s) |
| Protection | Product, Personnel, Environmental |
| | |
| --- | --- |
| Airflow Monitor | SingleAirflowSensor |
| Control System | FlowGard |
| | |
| --- | --- |
| Est. Shipping Weight lbs (kg) | 530 lbs. / 240 kg. |
| Net Weight lbs (kg) | 480 lbs. / 218 kg. |
| | |
| --- | --- |
| Blower Contact Wires | N/A |
| Closure Panels | N/A |
| Cord Pass Through | Standard Right |
| Double Exhaust HEPA Filter | N/A |
| Gas Supply Interlock with Blower | N/A |
| Glass Sidewalls | N/A |
| IV Bar with 6 Hooks | Optional |
| Magnifying Glass in Window | N/A |
| Motorized Base Stand | Optional as Separate Accessory |
| Motorized Window | N/A |
| Other Built-in Supply Filter Option(s) | N/A |
| Outlet(s) | Standard, two backwall |
| Plumbing | N/A |
| Remote Service Valves | N/A |
| Seismic Brackets or Studs | N/A |
| Service Couplings (3/8-inch NPT) | Two Couplings on Left Side Wall and One on Right Side Wall are Standard, Maximum of Two Each Side Wall Optional |
| Service Valves (3/8-inch NPT) | One Valve on Right Side Wall is Standard, Maximum of Two Each Side Wall Optional |
| Side Panels | N/A |
| Smooth Interior | N/A |
| Ultraviolet (UV) Light | Optional |
| Window Edge Protector | N/A |
| | |
| --- | --- |
| Access Opening Glass Type | Safety Glass |
| Armrest | Plastic |
| Cabinet Construction | All welded stainless steel 16/18 GA, Type 304 pressure tight design |
| Casters | N/A |
| Decontamination Seal-able Window | N/A |
| Diffuser | Metal, non-flammable |
| Drain Valve Location | Front right |
| Exhaust Filter | 11 1/2-inch (292 mm) 99.995% Efficiency @ MPPS |
| Front & Control Panel Material | Painted Steel |
| HEPA Filter Seal Type | HEPEX Zero Leak Neoprene Seal, Spring-loaded |
| Lighting | LED |
| Main Cabinet Wrap | Seam Welded Stainless Steel Side and Back Wall Construction |
| Motor(s) | 3/4 HP DC ECM |
| Plenum Type | HEPEX |
| Pre-filter | N/A |
| Style | Bench top, optional base stand |
| Supply Filter | 3-inch (76mm) 99.995% Efficiency @ MPPS |
| Viewing Window Inches (mm) | 21 (533) open to fully closed |
| Work Access Opening(s) | 10-inch (254 mm) |
| Work Surface | One-Piece Dished Stainless Steel with Prop-Up Rod |
| Work Zone Wrap | Single Piece Stainless Steel Side and Back Wall Construction |
| | |
| --- | --- |
| Data Output Features | RS-232 |
| Remote Alarm Terminals | Standard |
| | |
| --- | --- |
| Est. Shipping Depth Inches (mm) | 41.3 (1050mm) |
| Est. Shipping Height Inches (mm) | 76.8 (1950mm) |
| Est. Shipping Width Inches (mm) | 57.1 (1450) |
| Exterior Depth Inches (mm) | 32 3/16 (817) |
| Exterior Depth with Armrest Removed Inches (mm) | 31 7/16 (799) |
| Exterior Height (Minimum for Transport) Inches (mm) | 59 (1499) |
| Exterior Height Inches (mm) | 60 7/8 (1546) |
| Exterior Height with 30-inch (762 mm) Work Surface Height inches (mm) | 87 3/8 (2219) |
| Exterior Height with 36-inch (915 mm) Work Surface Height inches (mm) | 93 3/8 (2372) |
| Exterior Width Inches (mm) | 53 5/8 (1362) |
| Nominal Width Feet (Meters) | 4 ft. (1.2m) |
| Useable Work Tray Area Depth Inches (mm) | 20 7/8 (530) |
| Useable Work Tray Area Width Inches (mm) | 45 7/8 (1165) |
| Work Area Depth Measured at 10-inches (254 mm) Window Height Inches (mm) | 25 3/4 (654) |
| Work Area Depth Measured at 12-inches (305 mm) Window Height Inches (mm) | N/A |
| Work Area Depth Measured at 14-inches (356 mm) Window Height Inches (mm) | N/A |
| Work Area Depth Measured at 8-inches (203 mm) Window Height Inches (mm) | N/A |
| Work Area Height Inches (mm) | 28 1/2 (724) |
| Work Area Width Inches (mm) | 46 3/8 (1178) |
| | |
| --- | --- |
| Blower/Lights Amps [10-inch (254 mm) Access Opening] | 2.9 |
| Blower/Lights Amps [12-inch (305 mm) Access Opening] | |
| Blower/Lights Amps [14-inch (356mm) Access Opening] | |
| Blower/Lights Amps [8-inch (203 mm) Access Opening] | |
| Electrical Configuration | 100V5060Hz |
| Junction Box | N/A |
| Outlet Amps | 2 |
| Power Cord | 12 GA - 3 Wire, 20A |
| Power Cord Length Foot (Meter) | 12 (3.7) |
| Rated Amps | 11 |
| | |
| --- | --- |
| Light Intensity fc (Lux) | 90-120 (968-1291) |
| Reach into workzone Inches (mm) | 6 (152) |
| Sound Pressure Level per ISO 4871 | Inquire |
| | |
| --- | --- |
| 10-inch (254 mm) Opening Exhaust Requirement for Fixed Canopy (NU-907/NU-916) CFM (CMH) | 426 (724) |
| 10-inch (254 mm) Opening Exhaust Requirement for Variable Flow Canopy (NU-911) CFM (CMH) | 363-588 (617-1000) |
| 12-inch (305 mm) Opening Exhaust Requirement for Fixed Canopy (NU-907/NU-916) CFM (CMH) | N/A |
| 12-inch (305 mm) Opening Exhaust Requirement for Variable Flow Canopy (NU-911) CFM (CMH) | N/A |
| 14-inch (356mm) Opening Exhaust Requirement for Fixed Canopy (NU-926) CFM(CMH) | N/A |
| 14-inch (356mm) Opening Exhaust Requirement for Variable Flow Canopy (NU-911) CFM(CMH) | N/A |
| 8-inch (203 mm) Opening Exhaust Requirement for Fixed Canopy (NU-907/NU-916) CFM (CMH) | N/A |
| 8-inch (203 mm) Opening Exhaust Requirement for Variable Flow Canopy (NU-911) CFM (CMH) | N/A |
| Bag In Bag Out | N/A |
| Heat Rejected 10-inch (254 mm) Access Opening (BTU/Hour) | 1140 |
| Heat Rejected 12-inch (305 mm) Access Opening (BTU/Hour) | N/A |
| Heat Rejected 14-inch (356 mm) Access Opening (BTU/Hour) | N/A |
| Heat Rejected 8-inch (203 mm) Access Opening (BTU/Hour) | N/A |
| Heat Rejected Vented (BTU/Hour) | 157 |
| Other Built-in Exhaust Option(s) | N/A |
| Plant Duct Static Pressure Inches (mm) | 0.05-0.1"/1.27-2.54mm H2O |
| | |
| --- | --- |
| Australian Test Method | N/A |
| Performance Standard | NSF-ANSI-49 |
| Safety Certification | UL, UL-C |
| | |
| --- | --- |
| Air Cleanliness (ISO 14644) | ISO-Class-5 |
| Downflow fpm (m/s) | 60 fpm (0.30 m/s) |
| Fumigation: per NIH/NSF Procedures | True |
| Inflow fpm (m/s) | 105 fpm (0.53 m/s) |
| Protection | Product, Personnel, Environmental |
| | |
| --- | --- |
| Airflow Monitor | SingleAirflowSensor |
| Control System | FlowGard |
| | |
| --- | --- |
| Est. Shipping Weight lbs (kg) | 530 (240) |
| Net Weight lbs (kg) | 480 (218) |
| | |
| --- | --- |
| Blower Contact Wires | N/A |
| Closure Panels | N/A |
| Cord Pass Through | Standard Right |
| Double Exhaust HEPA Filter | N/A |
| Gas Supply Interlock with Blower | N/A |
| Glass Sidewalls | N/A |
| IV Bar with 6 Hooks | Optional |
| Magnifying Glass in Window | N/A |
| Motorized Base Stand | Optional as Separate Accessory |
| Motorized Window | N/A |
| Other Built-in Supply Filter Option(s) | N/A |
| Outlet(s) | Standard, two backwall |
| Plumbing | N/A |
| Remote Service Valves | N/A |
| Seismic Brackets or Studs | N/A |
| Service Couplings (3/8-inch NPT) | Two Couplings on Left Side Wall and One on Right Side Wall are Standard, Maximum of Two Each Side Wall Optional |
| Service Valves (3/8-inch NPT) | One Valve on Right Side Wall is Standard, Maximum of Two Each Side Wall Optional |
| Side Panels | N/A |
| Smooth Interior | N/A |
| Ultraviolet (UV) Light | Optional |
| Window Edge Protector | N/A |
| | |
| --- | --- |
| Access Opening Glass Type | Safety Glass |
| Armrest | Plastic |
| Cabinet Construction | All welded stainless steel 16/18 GA, Type 304 pressure tight design |
| Casters | N/A |
| Decontamination Seal-able Window | N/A |
| Diffuser | Metal, non-flammable |
| Drain Valve Location | Front right |
| Exhaust Filter | 11 1/2-inch (292 mm) 99.995% Efficiency @ MPPS |
| Front & Control Panel Material | Painted Steel |
| HEPA Filter Seal Type | HEPEX Zero Leak Neoprene Seal, Spring-loaded |
| Lighting | LED |
| Main Cabinet Wrap | Seam Welded Stainless Steel Side and Back Wall Construction |
| Motor(s) | 3/4 HP DC ECM |
| Plenum Type | HEPEX |
| Pre-filter | N/A |
| Style | Bench top, optional base stand |
| Supply Filter | 3-inch (76mm) 99.995% Efficiency @ MPPS |
| Viewing Window Inches (mm) | 21 (533) open to fully closed |
| Work Access Opening(s) | 10-inch (254 mm) |
| Work Surface | One-Piece Dished Stainless Steel with Prop-Up Rod |
| Work Zone Wrap | Single Piece Stainless Steel Side and Back Wall Construction |
| | |
| --- | --- |
| Data Output Features | RS-232 |
| Remote Alarm Terminals | Standard |
| | |
| --- | --- |
| Est. Shipping Depth Inches (mm) | 41.3 (1050mm) |
| Est. Shipping Height Inches (mm) | 76.8 (1950mm) |
| Est. Shipping Width Inches (mm) | 57.1 (1450) |
| Exterior Depth Inches (mm) | 32 3/16 (817) |
| Exterior Depth with Armrest Removed Inches (mm) | 31 7/16 (799) |
| Exterior Height (Minimum for Transport) Inches (mm) | 59 (1499) |
| Exterior Height Inches (mm) | 60 7/8 (1546) |
| Exterior Height with 30-inch (762 mm) Work Surface Height inches (mm) | 87 3/8 (2219) |
| Exterior Height with 36-inch (915 mm) Work Surface Height inches (mm) | 93 3/8 (2372) |
| Exterior Width Inches (mm) | 53 5/8 (1362) |
| Nominal Width Feet (Meters) | 4 ft. (1.2m) |
| Useable Work Tray Area Depth Inches (mm) | 20 7/8 (530) |
| Useable Work Tray Area Width Inches (mm) | 45 7/8 (1165) |
| Work Area Depth Measured at 10-inches (254 mm) Window Height Inches (mm) | 25 3/4 (654) |
| Work Area Depth Measured at 12-inches (305 mm) Window Height Inches (mm) | N/A |
| Work Area Depth Measured at 14-inches (356 mm) Window Height Inches (mm) | N/A |
| Work Area Depth Measured at 8-inches (203 mm) Window Height Inches (mm) | N/A |
| Work Area Height Inches (mm) | 28 1/2 (724) |
| Work Area Width Inches (mm) | 46 3/8 (1178) |
| | |
| --- | --- |
| Blower/Lights Amps [10-inch (254 mm) Access Opening] | 2.9 |
| Blower/Lights Amps [12-inch (305 mm) Access Opening] | |
| Blower/Lights Amps [14-inch (356mm) Access Opening] | |
| Blower/Lights Amps [8-inch (203 mm) Access Opening] | |
| Electrical Configuration | 115V60Hz |
| Junction Box | N/A |
| Outlet Amps | 3 |
| Power Cord | 12 GA - 3 Wire, 20A |
| Power Cord Length Foot (Meter) | 12 (3.7) |
| Rated Amps | 14 |
| | |
| --- | --- |
| Light Intensity fc (Lux) | 90-120 (968-1291) |
| Reach into workzone Inches (mm) | 6 (152) |
| Sound Pressure Level per ISO 4871 | Inquire |
| | |
| --- | --- |
| 10-inch (254 mm) Opening Exhaust Requirement for Fixed Canopy (NU-907/NU-916) CFM (CMH) | 426 (724) |
| 10-inch (254 mm) Opening Exhaust Requirement for Variable Flow Canopy (NU-911) CFM (CMH) | 363-588 (617-1000) |
| 12-inch (305 mm) Opening Exhaust Requirement for Fixed Canopy (NU-907/NU-916) CFM (CMH) | N/A |
| 12-inch (305 mm) Opening Exhaust Requirement for Variable Flow Canopy (NU-911) CFM (CMH) | N/A |
| 14-inch (356mm) Opening Exhaust Requirement for Fixed Canopy (NU-926) CFM(CMH) | N/A |
| 14-inch (356mm) Opening Exhaust Requirement for Variable Flow Canopy (NU-911) CFM(CMH) | N/A |
| 8-inch (203 mm) Opening Exhaust Requirement for Fixed Canopy (NU-907/NU-916) CFM (CMH) | N/A |
| 8-inch (203 mm) Opening Exhaust Requirement for Variable Flow Canopy (NU-911) CFM (CMH) | N/A |
| Bag In Bag Out | N/A |
| Heat Rejected 10-inch (254 mm) Access Opening (BTU/Hour) | 1140 |
| Heat Rejected 12-inch (305 mm) Access Opening (BTU/Hour) | N/A |
| Heat Rejected 14-inch (356 mm) Access Opening (BTU/Hour) | N/A |
| Heat Rejected 8-inch (203 mm) Access Opening (BTU/Hour) | N/A |
| Heat Rejected Vented (BTU/Hour) | 157 |
| Other Built-in Exhaust Option(s) | N/A |
| Plant Duct Static Pressure Inches (mm) | 0.05-0.1"/1.27-2.54mm H2O |
| | |
| --- | --- |
| Australian Test Method | N/A |
| Performance Standard | NSF-ANSI-49 |
| Safety Certification | UL, UL-C |
| | |
| --- | --- |
| Air Cleanliness (ISO 14644) | ISO-Class-5 |
| Downflow fpm (m/s) | 60 fpm (0.30 m/s) |
| Fumigation: per NIH/NSF Procedures | True |
| Inflow fpm (m/s) | 105 fpm (0.53 m/s) |
| Protection | Product, Personnel, Environmental |
| | |
| --- | --- |
| Airflow Monitor | SingleAirflowSensor |
| Control System | FlowGard |
| | |
| --- | --- |
| Est. Shipping Weight lbs (kg) | 530 (240) |
| Net Weight lbs (kg) | 480 (218) |
| | |
| --- | --- |
| Blower Contact Wires | N/A |
| Closure Panels | N/A |
| Cord Pass Through | Standard Right |
| Double Exhaust HEPA Filter | Optional |
| Gas Supply Interlock with Blower | N/A |
| Glass Sidewalls | N/A |
| IV Bar with 6 Hooks | Optional |
| Magnifying Glass in Window | N/A |
| Motorized Base Stand | Optional as Separate Accessory |
| Motorized Window | N/A |
| Other Built-in Supply Filter Option(s) | N/A |
| Outlet(s) | Standard, two backwall |
| Plumbing | N/A |
| Remote Service Valves | N/A |
| Seismic Brackets or Studs | N/A |
| Service Couplings (3/8-inch NPT) | Two Couplings on Left Side Wall and One on Right Side Wall are Standard, Maximum of Two Each Side Wall Optional |
| Service Valves (3/8-inch NPT) | One Valve on Right Side Wall is Standard, Maximum of Two Each Side Wall Optional |
| Side Panels | N/A |
| Smooth Interior | N/A |
| Ultraviolet (UV) Light | Optional |
| Window Edge Protector | N/A |
| | |
| --- | --- |
| Access Opening Glass Type | Safety Glass |
| Armrest | Plastic |
| Cabinet Construction | All welded stainless steel 16/18 GA, Type 304 pressure tight design |
| Casters | N/A |
| Decontamination Seal-able Window | N/A |
| Diffuser | Metal, non-flammable |
| Drain Valve Location | Front right |
| Exhaust Filter | 11 1/2-inch (292 mm) 99.995% Efficiency @ MPPS |
| Front & Control Panel Material | Painted Steel |
| HEPA Filter Seal Type | HEPEX Zero Leak Neoprene Seal, Spring-loaded |
| Lighting | LED |
| Main Cabinet Wrap | Seam Welded Stainless Steel Side and Back Wall Construction |
| Motor(s) | 3/4 HP DC ECM |
| Plenum Type | HEPEX |
| Pre-filter | N/A |
| Style | Bench top, optional base stand |
| Supply Filter | 3-inch (76mm) 99.995% Efficiency @ MPPS |
| Viewing Window Inches (mm) | 21 (533) open to fully closed |
| Work Access Opening(s) | 10-inch (254 mm) |
| Work Surface | One-Piece Dished Stainless Steel with Prop-Up Rod |
| Work Zone Wrap | Single Piece Stainless Steel Side and Back Wall Construction |
| | |
| --- | --- |
| Data Output Features | RS-232 |
| Remote Alarm Terminals | Standard |
| | |
| --- | --- |
| Est. Shipping Depth Inches (mm) | 41.3 (1050mm) |
| Est. Shipping Height Inches (mm) | 76.8 (1950mm) |
| Est. Shipping Width Inches (mm) | 57.1 (1450) |
| Exterior Depth Inches (mm) | 32 3/16 (817) |
| Exterior Depth with Armrest Removed Inches (mm) | 31 7/16 (799) |
| Exterior Height (Minimum for Transport) Inches (mm) | 59 (1499) |
| Exterior Height Inches (mm) | 60 7/8 (1546) |
| Exterior Height with 30-inch (762 mm) Work Surface Height inches (mm) | 87 3/8 (2219) |
| Exterior Height with 36-inch (915 mm) Work Surface Height inches (mm) | 93 3/8 (2372) |
| Exterior Width Inches (mm) | 53 5/8 (1362) |
| Nominal Width Feet (Meters) | 4 ft. (1.2m) |
| Useable Work Tray Area Depth Inches (mm) | 20 7/8 (530) |
| Useable Work Tray Area Width Inches (mm) | 45 7/8 (1165) |
| Work Area Depth Measured at 10-inches (254 mm) Window Height Inches (mm) | 25 3/4 (654) |
| Work Area Depth Measured at 12-inches (305 mm) Window Height Inches (mm) | N/A |
| Work Area Depth Measured at 14-inches (356 mm) Window Height Inches (mm) | N/A |
| Work Area Depth Measured at 8-inches (203 mm) Window Height Inches (mm) | N/A |
| Work Area Height Inches (mm) | 28 1/2 (724) |
| Work Area Width Inches (mm) | 46 3/8 (1178) |
| | |
| --- | --- |
| Blower/Lights Amps [10-inch (254 mm) Access Opening] | 2.9 |
| Blower/Lights Amps [12-inch (305 mm) Access Opening] | |
| Blower/Lights Amps [14-inch (356mm) Access Opening] | |
| Blower/Lights Amps [8-inch (203 mm) Access Opening] | |
| Electrical Configuration | 230V5060Hz |
| Junction Box | N/A |
| Outlet Amps | 3 |
| Power Cord | Single 12-foot (3.7m) 14 GA - 3 Wire, 15A |
| Power Cord Length Foot (Meter) | 12 (3.7) |
| Rated Amps | 10 |
| | |
| --- | --- |
| Light Intensity fc (Lux) | 90-120 (968-1291) |
| Reach into workzone Inches (mm) | 6 (152) |
| Sound Pressure Level per ISO 4871 | ≤ 56dba |
| | |
| --- | --- |
| 10-inch (254 mm) Opening Exhaust Requirement for Fixed Canopy (NU-907/NU-916) CFM (CMH) | 426 (724) |
| 10-inch (254 mm) Opening Exhaust Requirement for Variable Flow Canopy (NU-911) CFM (CMH) | 363-588 (617-1000) |
| 12-inch (305 mm) Opening Exhaust Requirement for Fixed Canopy (NU-907/NU-916) CFM (CMH) | N/A |
| 12-inch (305 mm) Opening Exhaust Requirement for Variable Flow Canopy (NU-911) CFM (CMH) | N/A |
| 14-inch (356mm) Opening Exhaust Requirement for Fixed Canopy (NU-926) CFM(CMH) | N/A |
| 14-inch (356mm) Opening Exhaust Requirement for Variable Flow Canopy (NU-911) CFM(CMH) | N/A |
| 8-inch (203 mm) Opening Exhaust Requirement for Fixed Canopy (NU-907/NU-916) CFM (CMH) | N/A |
| 8-inch (203 mm) Opening Exhaust Requirement for Variable Flow Canopy (NU-911) CFM (CMH) | N/A |
| Bag In Bag Out | N/A |
| Heat Rejected 10-inch (254 mm) Access Opening (BTU/Hour) | 1140 |
| Heat Rejected 12-inch (305 mm) Access Opening (BTU/Hour) | N/A |
| Heat Rejected 14-inch (356 mm) Access Opening (BTU/Hour) | N/A |
| Heat Rejected 8-inch (203 mm) Access Opening (BTU/Hour) | N/A |
| Heat Rejected Vented (BTU/Hour) | 157 |
| Other Built-in Exhaust Option(s) | N/A |
| Plant Duct Static Pressure Inches (mm) | 0.05-0.1" (1.27-2.54) |
| | |
| --- | --- |
| Australian Test Method | Optional |
| Performance Standard | NSF-ANSI-49, EN-12469 |
| Safety Certification | UL, UL-C |
| | |
| --- | --- |
| Air Cleanliness (ISO 14644) | ISO-Class-5 |
| Downflow fpm (m/s) | 60 fpm (0.30 m/s) |
| Fumigation: per NIH/NSF Procedures | True |
| Inflow fpm (m/s) | 105 fpm (0.53 m/s) |
| Protection | Product, Personnel, Environmental |
| | |
| --- | --- |
| Airflow Monitor | SingleAirflowSensor |
| Control System | FlowGard |
| | |
| --- | --- |
| Est. Shipping Weight lbs (kg) | 530 (240) |
| Net Weight lbs (kg) | 480 (218) |
| | |
| --- | --- |
| Blower Contact Wires | Optional |
| Closure Panels | Optional Rear Closure Panels for Seismic Brackets |
| Cord Pass Through | Standard Right |
| Double Exhaust HEPA Filter | N/A |
| Gas Supply Interlock with Blower | N/A |
| Glass Sidewalls | Optional with 8 or 10 inch (203 or 254mm) Work Access Openings |
| IV Bar with 6 Hooks | Optional |
| Magnifying Glass in Window | N/A |
| Motorized Base Stand | Optional as Separate Accessory |
| Motorized Window | N/A |
| Other Built-in Supply Filter Option(s) | N/A |
| Outlet(s) | Standard, two backwall |
| Plumbing | Optional 3/8" Soft Copper, 3/8" Black Pipe (Gas Only), or 1/2" Rigid Copper |
| Remote Service Valves | N/A |
| Seismic Brackets or Studs | Optional Rear or Floor Mount Seismic Brackets |
| Service Couplings (3/8-inch NPT) | Two Couplings on Left Side Wall and One on Right Side Wall are Standard, Maximum of Three Each Side Wall Optional |
| Service Valves (3/8-inch NPT) | One Valve on Right Side Wall is Standard, Maximum of Three Each Side Wall Optional |
| Side Panels | Optional with Plumbing out Bottom, Top or Back |
| Smooth Interior | Optional |
| Ultraviolet (UV) Light | Optional |
| Window Edge Protector | Optional |
| | |
| --- | --- |
| Access Opening Glass Type | Tempered |
| Armrest | Standard Plastic with Optional Stainless Steel |
| Cabinet Construction | All welded stainless steel 16/18 GA, Type 304 pressure tight design |
| Casters | N/A |
| Decontamination Seal-able Window | N/A |
| Diffuser | Metal, non-flammable |
| Drain Valve Location | Front right |
| Exhaust Filter | 11 1/2-inch (292 mm) 99.99% Efficiency on 0.3 microns |
| Front & Control Panel Material | Painted Steel |
| HEPA Filter Seal Type | HEPEX Zero Leak Neoprene Seal, Spring-loaded |
| Lighting | LED |
| Main Cabinet Wrap | Single Piece Stainless Steel Side and Back Wall Construction |
| Motor(s) | 1 HP DC ECM |
| Plenum Type | HEPEX |
| Pre-filter | N/A |
| Style | Bench top, optional base stand |
| Supply Filter | 3-inch (76mm) 99.99% Efficiency on 0.3 microns |
| Viewing Window Inches (mm) | 21 (533) open to fully closed |
| Work Access Opening(s) | 8, 10, 12-inch (203, 254, 305 mm) |
| Work Surface | One-Piece Dished Stainless Steel with Prop-Up Rod |
| Work Zone Wrap | Single Piece Stainless Steel Side and Back Wall Construction |
| | |
| --- | --- |
| Data Output Features | RS-232 |
| Remote Alarm Terminals | Standard |
| | |
| --- | --- |
| Est. Shipping Depth Inches (mm) | 43 (1092) |
| Est. Shipping Height Inches (mm) | 70 (1778) |
| Est. Shipping Width Inches (mm) | 70 (1778) |
| Exterior Depth Inches (mm) | 32 1/8 (817) |
| Exterior Depth with Armrest Removed Inches (mm) | 31 7/16 (799) |
| Exterior Height (Minimum for Transport) Inches (mm) | 59 (1499) |
| Exterior Height Inches (mm) | 60 7/8 (1546) |
| Exterior Height with 30-inch (762 mm) Work Surface Height inches (mm) | 87.375 (2219) |
| Exterior Height with 36-inch (915 mm) Work Surface Height inches (mm) | 93.375 (2371) |
| Exterior Width Inches (mm) | 65 5/8 (1669) |
| Nominal Width Feet (Meters) | 5 ft. (1.5m) |
| Useable Work Tray Area Depth Inches (mm) | 20 7/8 (530) |
| Useable Work Tray Area Width Inches (mm) | 57 7/8 (1470) |
| Work Area Depth Measured at 10-inches (254 mm) Window Height Inches (mm) | 25 3/4 (654) |
| Work Area Depth Measured at 12-inches (305 mm) Window Height Inches (mm) | Inquire |
| Work Area Depth Measured at 14-inches (356 mm) Window Height Inches (mm) | N/A |
| Work Area Depth Measured at 8-inches (203 mm) Window Height Inches (mm) | Inquire |
| Work Area Height Inches (mm) | 28 1/2 (724) |
| Work Area Width Inches (mm) | 46 3/8 (1178) |
| | |
| --- | --- |
| Blower/Lights Amps [10-inch (254 mm) Access Opening] | 4.5 |
| Blower/Lights Amps [12-inch (305 mm) Access Opening] | 4.8 |
| Blower/Lights Amps [14-inch (356mm) Access Opening] | |
| Blower/Lights Amps [8-inch (203 mm) Access Opening] | 4.1 |
| Electrical Configuration | 115V60Hz |
| Junction Box | Optional |
| Outlet Amps | 3 |
| Power Cord | 12 gauge - 3 Wire, 20A |
| Power Cord Length Foot (Meter) | 12 (3.7) |
| Rated Amps | 16 |
| | |
| --- | --- |
| Light Intensity fc (Lux) | 90-120 (968-1291) |
| Reach into workzone Inches (mm) | 6 (152) |
| Sound Pressure Level per ISO 4871 | ≤ 58 |
| | |
| --- | --- |
| 10-inch (254 mm) Opening Exhaust Requirement for Fixed Canopy (NU-907/NU-916) CFM (CMH) | 531 (902) |
| 10-inch (254 mm) Opening Exhaust Requirement for Variable Flow Canopy (NU-911) CFM (CMH) | 451-676 (766-1149) |
| 12-inch (305 mm) Opening Exhaust Requirement for Fixed Canopy (NU-907/NU-916) CFM (CMH) | 610 (1036) |
| 12-inch (305 mm) Opening Exhaust Requirement for Variable Flow Canopy (NU-911) CFM (CMH) | 531-760 (909-1291) |
| 14-inch (356mm) Opening Exhaust Requirement for Fixed Canopy (NU-926) CFM(CMH) | N/A |
| 14-inch (356mm) Opening Exhaust Requirement for Variable Flow Canopy (NU-911) CFM(CMH) | N/A |
| 8-inch (203 mm) Opening Exhaust Requirement for Fixed Canopy (NU-907/NU-916) CFM (CMH) | 445 (756) |
| 8-inch (203 mm) Opening Exhaust Requirement for Variable Flow Canopy (NU-911) CFM (CMH) | 365-590 (621-1003) |
| Bag In Bag Out | N/A |
| Heat Rejected 10-inch (254 mm) Access Opening (BTU/Hour) | 1768 |
| Heat Rejected 12-inch (305 mm) Access Opening (BTU/Hour) | 1884 |
| Heat Rejected 14-inch (356 mm) Access Opening (BTU/Hour) | N/A |
| Heat Rejected 8-inch (203 mm) Access Opening (BTU/Hour) | 1611 |
| Heat Rejected Vented (BTU/Hour) | 198 |
| Other Built-in Exhaust Option(s) | N/A |
| Plant Duct Static Pressure Inches (mm) | 0.05-0.1"/1.27-2.54mm H2O |
| | |
| --- | --- |
| Australian Test Method | N/A |
| Performance Standard | NSF-ANSI-49 |
| Safety Certification | UL, UL-C |
| | |
| --- | --- |
| Air Cleanliness (ISO 14644) | ISO-Class-5 |
| Downflow fpm (m/s) | 60 fpm (0.30 m/s) |
| Fumigation: per NIH/NSF Procedures | True |
| Inflow fpm (m/s) | 105 fpm (0.53 m/s) |
| Protection | Product, Personnel, Environmental |
| | |
| --- | --- |
| Airflow Monitor | SingleAirflowSensor |
| Control System | FlowGard |
| | |
| --- | --- |
| Est. Shipping Weight lbs (kg) | 620 lbs. / 281 kg. |
| Net Weight lbs (kg) | 570 lbs. / 258 kg. |
| | |
| --- | --- |
| Blower Contact Wires | Optional |
| Closure Panels | Optional Rear Closure Panels for Seismic Brackets |
| Cord Pass Through | Standard Right |
| Double Exhaust HEPA Filter | Optional |
| Gas Supply Interlock with Blower | N/A |
| Glass Sidewalls | Optional |
| IV Bar with 6 Hooks | Optional |
| Magnifying Glass in Window | N/A |
| Motorized Base Stand | Optional as Separate Accessory |
| Motorized Window | N/A |
| Other Built-in Supply Filter Option(s) | N/A |
| Outlet(s) | Standard, two backwall |
| Plumbing | Optional 3/8" Soft Copper, 3/8" Black Pipe (Gas Only), or 1/2" Rigid Copper |
| Remote Service Valves | N/A |
| Seismic Brackets or Studs | Optional Rear or Floor Mount Seismic Brackets |
| Service Couplings (3/8-inch NPT) | Two Couplings on Left Side Wall and One on Right Side Wall are Standard, Maximum of Three Each Side Wall Optional |
| Service Valves (3/8-inch NPT) | One Valve on Right Side Wall is Standard, Maximum of Three Each Side Wall Optional |
| Side Panels | Optional with Plumbing out Bottom, Top or Back |
| Smooth Interior | N/A |
| Ultraviolet (UV) Light | Optional |
| Window Edge Protector | Optional |
| | |
| --- | --- |
| Access Opening Glass Type | Safety Glass |
| Armrest | Standard Plastic with Optional Stainless Steel |
| Cabinet Construction | All welded stainless steel 16/18 GA, Type 304 pressure tight design |
| Casters | N/A |
| Decontamination Seal-able Window | N/A |
| Diffuser | Metal, non-flammable |
| Drain Valve Location | Front right |
| Exhaust Filter | 11 1/2-inch (292 mm) 99.995% Efficiency @ MPPS |
| Front & Control Panel Material | Painted Steel |
| HEPA Filter Seal Type | HEPEX Zero Leak Neoprene Seal, Spring-loaded |
| Lighting | LED |
| Main Cabinet Wrap | Single Piece Stainless Steel Side and Back Wall Construction |
| Motor(s) | 1 HP DC ECM |
| Plenum Type | HEPEX |
| Pre-filter | N/A |
| Style | Bench top, optional base stand |
| Supply Filter | 3-inch (76mm) 99.995% Efficiency @ MPPS |
| Viewing Window Inches (mm) | 21 (533) open to fully closed |
| Work Access Opening(s) | 10-inch (254 mm) |
| Work Surface | One-Piece Dished Stainless Steel with Prop-Up Rod |
| Work Zone Wrap | Single Piece Stainless Steel Side and Back Wall Construction |
| | |
| --- | --- |
| Data Output Features | RS-232 |
| Remote Alarm Terminals | Standard |
| | |
| --- | --- |
| Est. Shipping Depth Inches (mm) | 43 (1092) |
| Est. Shipping Height Inches (mm) | 70 (1778) |
| Est. Shipping Width Inches (mm) | 70 (1778) |
| Exterior Depth Inches (mm) | 32 1/8 (817) |
| Exterior Depth with Armrest Removed Inches (mm) | 31 7/16 (799) |
| Exterior Height (Minimum for Transport) Inches (mm) | 59 (1499) |
| Exterior Height Inches (mm) | 60 7/8 (1546) |
| Exterior Height with 30-inch (762 mm) Work Surface Height inches (mm) | 88 3/8 (2245) |
| Exterior Height with 36-inch (915 mm) Work Surface Height inches (mm) | 94 3/8 (2397) |
| Exterior Width Inches (mm) | 65 5/8 (1669) |
| Nominal Width Feet (Meters) | 5 ft. (1.5m) |
| Useable Work Tray Area Depth Inches (mm) | 20 7/8 (530) |
| Useable Work Tray Area Width Inches (mm) | 57 7/8 (1470) |
| Work Area Depth Measured at 10-inches (254 mm) Window Height Inches (mm) | 25 3/4 (654) |
| Work Area Depth Measured at 12-inches (305 mm) Window Height Inches (mm) | N/A |
| Work Area Depth Measured at 14-inches (356 mm) Window Height Inches (mm) | N/A |
| Work Area Depth Measured at 8-inches (203 mm) Window Height Inches (mm) | N/A |
| Work Area Height Inches (mm) | 28 1/2 (724) |
| Work Area Width Inches (mm) | 46 3/8 (1178) |
| | |
| --- | --- |
| Blower/Lights Amps [10-inch (254 mm) Access Opening] | 4.5 |
| Blower/Lights Amps [12-inch (305 mm) Access Opening] | |
| Blower/Lights Amps [14-inch (356mm) Access Opening] | |
| Blower/Lights Amps [8-inch (203 mm) Access Opening] | |
| Electrical Configuration | 230V5060Hz |
| Junction Box | Optional |
| Outlet Amps | 3 |
| Power Cord | 14 gauge - 3 Wire, 15A |
| Power Cord Length Foot (Meter) | 12 (3.7) |
| Rated Amps | 11 |
| | |
| --- | --- |
| Light Intensity fc (Lux) | 90-120 (968-1291) |
| Reach into workzone Inches (mm) | 6 (152) |
| Sound Pressure Level per ISO 4871 | ≤ 58 |
| | |
| --- | --- |
| 10-inch (254 mm) Opening Exhaust Requirement for Fixed Canopy (NU-907/NU-916) CFM (CMH) | 531 (902) |
| 10-inch (254 mm) Opening Exhaust Requirement for Variable Flow Canopy (NU-911) CFM (CMH) | 451-676 (766-1149) |
| 12-inch (305 mm) Opening Exhaust Requirement for Fixed Canopy (NU-907/NU-916) CFM (CMH) | N/A |
| 12-inch (305 mm) Opening Exhaust Requirement for Variable Flow Canopy (NU-911) CFM (CMH) | N/A |
| 14-inch (356mm) Opening Exhaust Requirement for Fixed Canopy (NU-926) CFM(CMH) | N/A |
| 14-inch (356mm) Opening Exhaust Requirement for Variable Flow Canopy (NU-911) CFM(CMH) | N/A |
| 8-inch (203 mm) Opening Exhaust Requirement for Fixed Canopy (NU-907/NU-916) CFM (CMH) | N/A |
| 8-inch (203 mm) Opening Exhaust Requirement for Variable Flow Canopy (NU-911) CFM (CMH) | N/A |
| Bag In Bag Out | N/A |
| Heat Rejected 10-inch (254 mm) Access Opening (BTU/Hour) | 1768 |
| Heat Rejected 12-inch (305 mm) Access Opening (BTU/Hour) | N/A |
| Heat Rejected 14-inch (356 mm) Access Opening (BTU/Hour) | N/A |
| Heat Rejected 8-inch (203 mm) Access Opening (BTU/Hour) | N/A |
| Heat Rejected Vented (BTU/Hour) | 198 |
| Other Built-in Exhaust Option(s) | N/A |
| Plant Duct Static Pressure Inches (mm) | 0.05-0.1"/1.27-2.54mm H2O |
| | |
| --- | --- |
| Australian Test Method | Optional |
| Performance Standard | NSF-ANSI-49, EN-12469 |
| Safety Certification | |
| | |
| --- | --- |
| Air Cleanliness (ISO 14644) | ISO-Class-5 |
| Downflow fpm (m/s) | 60 fpm (0.30 m/s) |
| Fumigation: per NIH/NSF Procedures | True |
| Inflow fpm (m/s) | 105 fpm (0.53 m/s) |
| Protection | Product, Personnel, Environmental |
| | |
| --- | --- |
| Airflow Monitor | SingleAirflowSensor |
| Control System | FlowGard |
| | |
| --- | --- |
| Est. Shipping Weight lbs (kg) | 620 lbs. / 281 kg. |
| Net Weight lbs (kg) | 570 lbs. / 258 kg. |
| | |
| --- | --- |
| Blower Contact Wires | N/A |
| Closure Panels | N/A |
| Cord Pass Through | Standard Right |
| Double Exhaust HEPA Filter | N/A |
| Gas Supply Interlock with Blower | N/A |
| Glass Sidewalls | N/A |
| IV Bar with 6 Hooks | Optional |
| Magnifying Glass in Window | N/A |
| Motorized Base Stand | Optional as Separate Accessory |
| Motorized Window | N/A |
| Other Built-in Supply Filter Option(s) | N/A |
| Outlet(s) | Standard, two backwall |
| Plumbing | N/A |
| Remote Service Valves | N/A |
| Seismic Brackets or Studs | N/A |
| Service Couplings (3/8-inch NPT) | Two Couplings on Left Side Wall and One on Right Side Wall are Standard, Maximum of Two Each Side Wall Optional |
| Service Valves (3/8-inch NPT) | One Valve on Right Side Wall is Standard, Maximum of Two Each Side Wall Optional |
| Side Panels | N/A |
| Smooth Interior | N/A |
| Ultraviolet (UV) Light | Optional |
| Window Edge Protector | N/A |
| | |
| --- | --- |
| Access Opening Glass Type | Safety Glass |
| Armrest | Plastic |
| Cabinet Construction | All welded stainless steel 16/18 GA, Type 304 pressure tight design |
| Casters | N/A |
| Decontamination Seal-able Window | N/A |
| Diffuser | Metal, non-flammable |
| Drain Valve Location | Front right |
| Exhaust Filter | 11 1/2-inch (292 mm) 99.995% Efficiency @ MPPS |
| Front & Control Panel Material | Painted Steel |
| HEPA Filter Seal Type | HEPEX Zero Leak Neoprene Seal, Spring-loaded |
| Lighting | LED |
| Main Cabinet Wrap | Seam Welded Stainless Steel Side and Back Wall Construction |
| Motor(s) | 1 HP DC ECM |
| Plenum Type | HEPEX |
| Pre-filter | N/A |
| Style | Bench top, optional base stand |
| Supply Filter | 3-inch (76mm) 99.995% Efficiency @ MPPS |
| Viewing Window Inches (mm) | 21 (533) open to fully closed |
| Work Access Opening(s) | 10-inch (254 mm) |
| Work Surface | One-Piece Dished Stainless Steel with Prop-Up Rod |
| Work Zone Wrap | Single Piece Stainless Steel Side and Back Wall Construction |
| | |
| --- | --- |
| Data Output Features | RS-232 |
| Remote Alarm Terminals | Standard |
| | |
| --- | --- |
| Est. Shipping Depth Inches (mm) | 41.3 (1050mm) |
| Est. Shipping Height Inches (mm) | 76.8 (1950mm) |
| Est. Shipping Width Inches (mm) | 74.8 (1900) |
| Exterior Depth Inches (mm) | 32 3/16 (817) |
| Exterior Depth with Armrest Removed Inches (mm) | 31 7/16 (799) |
| Exterior Height (Minimum for Transport) Inches (mm) | 59 (1499) |
| Exterior Height Inches (mm) | 60 7/8 (1546) |
| Exterior Height with 30-inch (762 mm) Work Surface Height inches (mm) | 87 3/8 (2219) |
| Exterior Height with 36-inch (915 mm) Work Surface Height inches (mm) | 93 3/8 (2372) |
| Exterior Width Inches (mm) | 65 5/8 (1669) |
| Nominal Width Feet (Meters) | 5 ft. (1.5m) |
| Useable Work Tray Area Depth Inches (mm) | 20 7/8 (530) |
| Useable Work Tray Area Width Inches (mm) | 57 7/8 (1470) |
| Work Area Depth Measured at 10-inches (254 mm) Window Height Inches (mm) | 25 3/4 (654) |
| Work Area Depth Measured at 12-inches (305 mm) Window Height Inches (mm) | N/A |
| Work Area Depth Measured at 14-inches (356 mm) Window Height Inches (mm) | N/A |
| Work Area Depth Measured at 8-inches (203 mm) Window Height Inches (mm) | N/A |
| Work Area Height Inches (mm) | 28 1/2 (724) |
| Work Area Width Inches (mm) | 58 3/8 (1483) |
| | |
| --- | --- |
| Blower/Lights Amps [10-inch (254 mm) Access Opening] | 4.5 |
| Blower/Lights Amps [12-inch (305 mm) Access Opening] | |
| Blower/Lights Amps [14-inch (356mm) Access Opening] | |
| Blower/Lights Amps [8-inch (203 mm) Access Opening] | |
| Electrical Configuration | 100V5060Hz |
| Junction Box | N/A |
| Outlet Amps | 2 |
| Power Cord | 12 GA - 3 Wire, 20A |
| Power Cord Length Foot (Meter) | 12 (3.7) |
| Rated Amps | 13 |
| | |
| --- | --- |
| Light Intensity fc (Lux) | 90-120 (968-1291) |
| Reach into workzone Inches (mm) | 6 (152) |
| Sound Pressure Level per ISO 4871 | Inquire |
| | |
| --- | --- |
| 10-inch (254 mm) Opening Exhaust Requirement for Fixed Canopy (NU-907/NU-916) CFM (CMH) | 531 (902) |
| 10-inch (254 mm) Opening Exhaust Requirement for Variable Flow Canopy (NU-911) CFM (CMH) | 451-676 (766-1149) |
| 12-inch (305 mm) Opening Exhaust Requirement for Fixed Canopy (NU-907/NU-916) CFM (CMH) | N/A |
| 12-inch (305 mm) Opening Exhaust Requirement for Variable Flow Canopy (NU-911) CFM (CMH) | N/A |
| 14-inch (356mm) Opening Exhaust Requirement for Fixed Canopy (NU-926) CFM(CMH) | N/A |
| 14-inch (356mm) Opening Exhaust Requirement for Variable Flow Canopy (NU-911) CFM(CMH) | N/A |
| 8-inch (203 mm) Opening Exhaust Requirement for Fixed Canopy (NU-907/NU-916) CFM (CMH) | N/A |
| 8-inch (203 mm) Opening Exhaust Requirement for Variable Flow Canopy (NU-911) CFM (CMH) | N/A |
| Bag In Bag Out | N/A |
| Heat Rejected 10-inch (254 mm) Access Opening (BTU/Hour) | 1768 |
| Heat Rejected 12-inch (305 mm) Access Opening (BTU/Hour) | N/A |
| Heat Rejected 14-inch (356 mm) Access Opening (BTU/Hour) | N/A |
| Heat Rejected 8-inch (203 mm) Access Opening (BTU/Hour) | N/A |
| Heat Rejected Vented (BTU/Hour) | 198 |
| Other Built-in Exhaust Option(s) | N/A |
| Plant Duct Static Pressure Inches (mm) | 0.05-0.1"/1.27-2.54mm H2O |
| | |
| --- | --- |
| Australian Test Method | N/A |
| Performance Standard | NSF-ANSI-49 |
| Safety Certification | UL, UL-C |
| | |
| --- | --- |
| Air Cleanliness (ISO 14644) | ISO-Class-5 |
| Downflow fpm (m/s) | 60 fpm (0.30 m/s) |
| Fumigation: per NIH/NSF Procedures | True |
| Inflow fpm (m/s) | 105 fpm (0.53 m/s) |
| Protection | Product, Personnel, Environmental |
| | |
| --- | --- |
| Airflow Monitor | SingleAirflowSensor |
| Control System | FlowGard |
| | |
| --- | --- |
| Est. Shipping Weight lbs (kg) | 620 (281) |
| Net Weight lbs (kg) | 570 (258) |
| | |
| --- | --- |
| Blower Contact Wires | N/A |
| Closure Panels | N/A |
| Cord Pass Through | Standard Right |
| Double Exhaust HEPA Filter | N/A |
| Gas Supply Interlock with Blower | N/A |
| Glass Sidewalls | N/A |
| IV Bar with 6 Hooks | Optional |
| Magnifying Glass in Window | N/A |
| Motorized Base Stand | Optional as Separate Accessory |
| Motorized Window | N/A |
| Other Built-in Supply Filter Option(s) | N/A |
| Outlet(s) | Standard, two backwall |
| Plumbing | N/A |
| Remote Service Valves | N/A |
| Seismic Brackets or Studs | N/A |
| Service Couplings (3/8-inch NPT) | Two Couplings on Left Side Wall and One on Right Side Wall are Standard, Maximum of Two Each Side Wall Optional |
| Service Valves (3/8-inch NPT) | One Valve on Right Side Wall is Standard, Maximum of Two Each Side Wall Optional |
| Side Panels | N/A |
| Smooth Interior | N/A |
| Ultraviolet (UV) Light | Optional |
| Window Edge Protector | N/A |
| | |
| --- | --- |
| Access Opening Glass Type | Safety Glass |
| Armrest | Plastic |
| Cabinet Construction | All welded stainless steel 16/18 GA, Type 304 pressure tight design |
| Casters | N/A |
| Decontamination Seal-able Window | N/A |
| Diffuser | Metal, non-flammable |
| Drain Valve Location | Front right |
| Exhaust Filter | 11 1/2-inch (292 mm) 99.995% Efficiency @ MPPS |
| Front & Control Panel Material | Painted Steel |
| HEPA Filter Seal Type | HEPEX Zero Leak Neoprene Seal, Spring-loaded |
| Lighting | LED |
| Main Cabinet Wrap | Seam Welded Stainless Steel Side and Back Wall Construction |
| Motor(s) | 1 HP DC ECM |
| Plenum Type | HEPEX |
| Pre-filter | N/A |
| Style | Bench top, optional base stand |
| Supply Filter | 3-inch (76mm) 99.995% Efficiency @ MPPS |
| Viewing Window Inches (mm) | 21 (533) open to fully closed |
| Work Access Opening(s) | 10-inch (254 mm) |
| Work Surface | One-Piece Dished Stainless Steel with Prop-Up Rod |
| Work Zone Wrap | Single Piece Stainless Steel Side and Back Wall Construction |
| | |
| --- | --- |
| Data Output Features | RS-232 |
| Remote Alarm Terminals | Standard |
| | |
| --- | --- |
| Est. Shipping Depth Inches (mm) | 41.3 (1050mm) |
| Est. Shipping Height Inches (mm) | 76.8 (1950mm) |
| Est. Shipping Width Inches (mm) | 74.8 (1900) |
| Exterior Depth Inches (mm) | 32 3/16 (817) |
| Exterior Depth with Armrest Removed Inches (mm) | 31 7/16 (799) |
| Exterior Height (Minimum for Transport) Inches (mm) | 59 (1499) |
| Exterior Height Inches (mm) | 60 7/8 (1546) |
| Exterior Height with 30-inch (762 mm) Work Surface Height inches (mm) | 87 3/8 (2219) |
| Exterior Height with 36-inch (915 mm) Work Surface Height inches (mm) | 93 3/8 (2372) |
| Exterior Width Inches (mm) | 53 5/8 (1362) |
| Nominal Width Feet (Meters) | 5 ft. (1.5m) |
| Useable Work Tray Area Depth Inches (mm) | 20 7/8 (530) |
| Useable Work Tray Area Width Inches (mm) | 57 7/8 (1470) |
| Work Area Depth Measured at 10-inches (254 mm) Window Height Inches (mm) | 25 3/4 (654) |
| Work Area Depth Measured at 12-inches (305 mm) Window Height Inches (mm) | N/A |
| Work Area Depth Measured at 14-inches (356 mm) Window Height Inches (mm) | N/A |
| Work Area Depth Measured at 8-inches (203 mm) Window Height Inches (mm) | N/A |
| Work Area Height Inches (mm) | 28 1/2 (724) |
| Work Area Width Inches (mm) | 58 3/8 (1483) |
| | |
| --- | --- |
| Blower/Lights Amps [10-inch (254 mm) Access Opening] | 4.5 |
| Blower/Lights Amps [12-inch (305 mm) Access Opening] | |
| Blower/Lights Amps [14-inch (356mm) Access Opening] | |
| Blower/Lights Amps [8-inch (203 mm) Access Opening] | |
| Electrical Configuration | 115V60Hz |
| Junction Box | N/A |
| Outlet Amps | 3 |
| Power Cord | 12 GA - 3 Wire, 20A |
| Power Cord Length Foot (Meter) | 12 (3.7) |
| Rated Amps | 16 |
| | |
| --- | --- |
| Light Intensity fc (Lux) | 90-120 (968-1291) |
| Reach into workzone Inches (mm) | 6 (152) |
| Sound Pressure Level per ISO 4871 | Inquire |
| | |
| --- | --- |
| 10-inch (254 mm) Opening Exhaust Requirement for Fixed Canopy (NU-907/NU-916) CFM (CMH) | 531 (902) |
| 10-inch (254 mm) Opening Exhaust Requirement for Variable Flow Canopy (NU-911) CFM (CMH) | 451-676 (766-1149) |
| 12-inch (305 mm) Opening Exhaust Requirement for Fixed Canopy (NU-907/NU-916) CFM (CMH) | N/A |
| 12-inch (305 mm) Opening Exhaust Requirement for Variable Flow Canopy (NU-911) CFM (CMH) | N/A |
| 14-inch (356mm) Opening Exhaust Requirement for Fixed Canopy (NU-926) CFM(CMH) | N/A |
| 14-inch (356mm) Opening Exhaust Requirement for Variable Flow Canopy (NU-911) CFM(CMH) | N/A |
| 8-inch (203 mm) Opening Exhaust Requirement for Fixed Canopy (NU-907/NU-916) CFM (CMH) | N/A |
| 8-inch (203 mm) Opening Exhaust Requirement for Variable Flow Canopy (NU-911) CFM (CMH) | N/A |
| Bag In Bag Out | N/A |
| Heat Rejected 10-inch (254 mm) Access Opening (BTU/Hour) | 1768 |
| Heat Rejected 12-inch (305 mm) Access Opening (BTU/Hour) | N/A |
| Heat Rejected 14-inch (356 mm) Access Opening (BTU/Hour) | N/A |
| Heat Rejected 8-inch (203 mm) Access Opening (BTU/Hour) | N/A |
| Heat Rejected Vented (BTU/Hour) | 198 |
| Other Built-in Exhaust Option(s) | N/A |
| Plant Duct Static Pressure Inches (mm) | 0.05-0.1"/1.27-2.54mm H2O |
| | |
| --- | --- |
| Australian Test Method | N/A |
| Performance Standard | NSF-ANSI-49 |
| Safety Certification | UL, UL-C |
| | |
| --- | --- |
| Air Cleanliness (ISO 14644) | ISO-Class-5 |
| Downflow fpm (m/s) | 60 fpm (0.30 m/s) |
| Fumigation: per NIH/NSF Procedures | True |
| Inflow fpm (m/s) | 105 fpm (0.53 m/s) |
| Protection | Product, Personnel, Environmental |
| | |
| --- | --- |
| Airflow Monitor | SingleAirflowSensor |
| Control System | FlowGard |
| | |
| --- | --- |
| Est. Shipping Weight lbs (kg) | 620 (281) |
| Net Weight lbs (kg) | 570 (258) |
| | |
| --- | --- |
| Blower Contact Wires | N/A |
| Closure Panels | N/A |
| Cord Pass Through | Standard Right |
| Double Exhaust HEPA Filter | Optional |
| Gas Supply Interlock with Blower | N/A |
| Glass Sidewalls | N/A |
| IV Bar with 6 Hooks | Optional |
| Magnifying Glass in Window | N/A |
| Motorized Base Stand | Optional as Separate Accessory |
| Motorized Window | N/A |
| Other Built-in Supply Filter Option(s) | N/A |
| Outlet(s) | Standard, two backwall |
| Plumbing | N/A |
| Remote Service Valves | N/A |
| Seismic Brackets or Studs | N/A |
| Service Couplings (3/8-inch NPT) | Two Couplings on Left Side Wall and One on Right Side Wall are Standard, Maximum of Two Each Side Wall Optional |
| Service Valves (3/8-inch NPT) | One Valve on Right Side Wall is Standard, Maximum of Two Each Side Wall Optional |
| Side Panels | N/A |
| Smooth Interior | N/A |
| Ultraviolet (UV) Light | Optional |
| Window Edge Protector | N/A |
| | |
| --- | --- |
| Access Opening Glass Type | Safety Glass |
| Armrest | Plastic |
| Cabinet Construction | All welded stainless steel 16/18 GA, Type 304 pressure tight design |
| Casters | N/A |
| Decontamination Seal-able Window | N/A |
| Diffuser | Metal, non-flammable |
| Drain Valve Location | Front right |
| Exhaust Filter | 11 1/2-inch (292 mm) 99.995% Efficiency @ MPPS |
| Front & Control Panel Material | Painted Steel |
| HEPA Filter Seal Type | HEPEX Zero Leak Neoprene Seal, Spring-loaded |
| Lighting | LED |
| Main Cabinet Wrap | Seam Welded Stainless Steel Side and Back Wall Construction |
| Motor(s) | 1 HP DC ECM |
| Plenum Type | HEPEX |
| Pre-filter | N/A |
| Style | Bench top, optional base stand |
| Supply Filter | 3-inch (76mm) 99.995% Efficiency @ MPPS |
| Viewing Window Inches (mm) | 21 (533) open to fully closed |
| Work Access Opening(s) | 10-inch (254 mm) |
| Work Surface | One-Piece Dished Stainless Steel with Prop-Up Rod |
| Work Zone Wrap | Single Piece Stainless Steel Side and Back Wall Construction |
| | |
| --- | --- |
| Data Output Features | RS-232 |
| Remote Alarm Terminals | Standard |
| | |
| --- | --- |
| Est. Shipping Depth Inches (mm) | 41.3 (1050mm) |
| Est. Shipping Height Inches (mm) | 76.8 (1950mm) |
| Est. Shipping Width Inches (mm) | 74.8 (1900) |
| Exterior Depth Inches (mm) | 32 3/16 (817) |
| Exterior Depth with Armrest Removed Inches (mm) | 31 7/16 (799) |
| Exterior Height (Minimum for Transport) Inches (mm) | 59 (1499) |
| Exterior Height Inches (mm) | 60 7/8 (1546) |
| Exterior Height with 30-inch (762 mm) Work Surface Height inches (mm) | 87 3/8 (2219) |
| Exterior Height with 36-inch (915 mm) Work Surface Height inches (mm) | 93 3/8 (2372) |
| Exterior Width Inches (mm) | 65 5/8 (1669) |
| Nominal Width Feet (Meters) | 5 ft. (1.5m) |
| Useable Work Tray Area Depth Inches (mm) | 20 7/8 (530) |
| Useable Work Tray Area Width Inches (mm) | 57 7/8 (1470) |
| Work Area Depth Measured at 10-inches (254 mm) Window Height Inches (mm) | 25 3/4 (654) |
| Work Area Depth Measured at 12-inches (305 mm) Window Height Inches (mm) | N/A |
| Work Area Depth Measured at 14-inches (356 mm) Window Height Inches (mm) | N/A |
| Work Area Depth Measured at 8-inches (203 mm) Window Height Inches (mm) | N/A |
| Work Area Height Inches (mm) | 28 1/2 (724) |
| Work Area Width Inches (mm) | 58 3/8 (1483) |
| | |
| --- | --- |
| Blower/Lights Amps [10-inch (254 mm) Access Opening] | 4.5 |
| Blower/Lights Amps [12-inch (305 mm) Access Opening] | |
| Blower/Lights Amps [14-inch (356mm) Access Opening] | |
| Blower/Lights Amps [8-inch (203 mm) Access Opening] | |
| Electrical Configuration | 230V5060Hz |
| Junction Box | N/A |
| Outlet Amps | 3 |
| Power Cord | Single 12-foot (3.7m) 14 GA - 3 Wire, 15A |
| Power Cord Length Foot (Meter) | 12 (3.7) |
| Rated Amps | 11 |
| | |
| --- | --- |
| Light Intensity fc (Lux) | 90-120 (968-1291) |
| Reach into workzone Inches (mm) | 6 (152) |
| Sound Pressure Level per ISO 4871 | ≤ 58 dba |
| | |
| --- | --- |
| 10-inch (254 mm) Opening Exhaust Requirement for Fixed Canopy (NU-907/NU-916) CFM (CMH) | 531 (902) |
| 10-inch (254 mm) Opening Exhaust Requirement for Variable Flow Canopy (NU-911) CFM (CMH) | 451-676 (766-1149) |
| 12-inch (305 mm) Opening Exhaust Requirement for Fixed Canopy (NU-907/NU-916) CFM (CMH) | N/A |
| 12-inch (305 mm) Opening Exhaust Requirement for Variable Flow Canopy (NU-911) CFM (CMH) | N/A |
| 14-inch (356mm) Opening Exhaust Requirement for Fixed Canopy (NU-926) CFM(CMH) | N/A |
| 14-inch (356mm) Opening Exhaust Requirement for Variable Flow Canopy (NU-911) CFM(CMH) | N/A |
| 8-inch (203 mm) Opening Exhaust Requirement for Fixed Canopy (NU-907/NU-916) CFM (CMH) | N/A |
| 8-inch (203 mm) Opening Exhaust Requirement for Variable Flow Canopy (NU-911) CFM (CMH) | N/A |
| Bag In Bag Out | N/A |
| Heat Rejected 10-inch (254 mm) Access Opening (BTU/Hour) | 1768 |
| Heat Rejected 12-inch (305 mm) Access Opening (BTU/Hour) | N/A |
| Heat Rejected 14-inch (356 mm) Access Opening (BTU/Hour) | N/A |
| Heat Rejected 8-inch (203 mm) Access Opening (BTU/Hour) | N/A |
| Heat Rejected Vented (BTU/Hour) | 198 |
| Other Built-in Exhaust Option(s) | N/A |
| Plant Duct Static Pressure Inches (mm) | 0.05-0.1" (1.27-2.54) |
| | |
| --- | --- |
| Australian Test Method | Optional |
| Performance Standard | NSF-ANSI-49, EN-12469 |
| Safety Certification | UL, UL-C |
| | |
| --- | --- |
| Air Cleanliness (ISO 14644) | ISO-Class-5 |
| Downflow fpm (m/s) | 60 fpm (0.30 m/s) |
| Fumigation: per NIH/NSF Procedures | True |
| Inflow fpm (m/s) | 105 fpm (0.53 m/s) |
| Protection | Product, Personnel, Environmental |
| | |
| --- | --- |
| Airflow Monitor | SingleAirflowSensor |
| Control System | FlowGard |
| | |
| --- | --- |
| Est. Shipping Weight lbs (kg) | 620 (281) |
| Net Weight lbs (kg) | 570 (258) |
| | |
| --- | --- |
| Blower Contact Wires | Optional |
| Closure Panels | Optional Rear Closure Panels for Seismic Brackets |
| Cord Pass Through | Standard Right |
| Double Exhaust HEPA Filter | N/A |
| Gas Supply Interlock with Blower | N/A |
| Glass Sidewalls | Optional with 8 or 10 inch (203 or 254mm) Work Access Openings |
| IV Bar with 6 Hooks | Optional |
| Magnifying Glass in Window | N/A |
| Motorized Base Stand | Optional as Separate Accessory |
| Motorized Window | N/A |
| Other Built-in Supply Filter Option(s) | N/A |
| Outlet(s) | Standard, two backwall |
| Plumbing | Optional 3/8" Soft Copper, 3/8" Black Pipe (Gas Only), or 1/2" Rigid Copper |
| Remote Service Valves | N/A |
| Seismic Brackets or Studs | Optional Rear or Floor Mount Seismic Brackets |
| Service Couplings (3/8-inch NPT) | Two Couplings on Left Side Wall and One on Right Side Wall are Standard, Maximum of Three Each Side Wall Optional |
| Service Valves (3/8-inch NPT) | One Valve on Right Side Wall is Standard, Maximum of Three Each Side Wall Optional |
| Side Panels | Optional with Plumbing out Bottom, Top or Back |
| Smooth Interior | Optional |
| Ultraviolet (UV) Light | Optional |
| Window Edge Protector | Optional |
| | |
| --- | --- |
| Access Opening Glass Type | Tempered |
| Armrest | Standard Plastic with Optional Stainless Steel |
| Cabinet Construction | All welded stainless steel 16/18 GA, Type 304 pressure tight design |
| Casters | N/A |
| Decontamination Seal-able Window | N/A |
| Diffuser | Metal, non-flammable |
| Drain Valve Location | Front right |
| Exhaust Filter | 11 1/2-inch (292 mm) 99.99% Efficiency on 0.3 microns |
| Front & Control Panel Material | Painted Steel |
| HEPA Filter Seal Type | HEPEX Zero Leak Neoprene Seal, Spring-loaded |
| Lighting | LED |
| Main Cabinet Wrap | Single Piece Stainless Steel Side and Back Wall Construction |
| Motor(s) | 1 HP DC ECM |
| Plenum Type | HEPEX |
| Pre-filter | N/A |
| Style | Bench top, optional base stand |
| Supply Filter | 3-inch (76mm) 99.99% Efficiency on 0.3 microns |
| Viewing Window Inches (mm) | 21 (533) open to fully closed |
| Work Access Opening(s) | 8, 10, 12-inch (203, 254, 305 mm) |
| Work Surface | One-Piece Dished Stainless Steel with Prop-Up Rod |
| Work Zone Wrap | Single Piece Stainless Steel Side and Back Wall Construction |
| | |
| --- | --- |
| Data Output Features | RS-232 |
| Remote Alarm Terminals | Standard |
| | |
| --- | --- |
| Est. Shipping Depth Inches (mm) | 43 (1092) |
| Est. Shipping Height Inches (mm) | 70 (1778) |
| Est. Shipping Width Inches (mm) | 82 (2083) |
| Exterior Depth Inches (mm) | 32 1/8 (817) |
| Exterior Depth with Armrest Removed Inches (mm) | 31 7/16 (799) |
| Exterior Height (Minimum for Transport) Inches (mm) | 59 (1499) |
| Exterior Height Inches (mm) | 60 7/8 (1546) |
| Exterior Height with 30-inch (762 mm) Work Surface Height inches (mm) | 87.375 (2219) |
| Exterior Height with 36-inch (915 mm) Work Surface Height inches (mm) | 93.375 (2371) |
| Exterior Width Inches (mm) | 77 5/8 (1972) |
| Nominal Width Feet (Meters) | 6 ft. (1.8m) |
| Useable Work Tray Area Depth Inches (mm) | 20 7/8 (530) |
| Useable Work Tray Area Width Inches (mm) | 69 7/8 (1775) |
| Work Area Depth Measured at 10-inches (254 mm) Window Height Inches (mm) | 25 3/4 (654) |
| Work Area Depth Measured at 12-inches (305 mm) Window Height Inches (mm) | Inquire |
| Work Area Depth Measured at 14-inches (356 mm) Window Height Inches (mm) | N/A |
| Work Area Depth Measured at 8-inches (203 mm) Window Height Inches (mm) | Inquire |
| Work Area Height Inches (mm) | 28 1/2 (724) |
| Work Area Width Inches (mm) | 70 3/8 (1788) |
| | |
| --- | --- |
| Blower/Lights Amps [10-inch (254 mm) Access Opening] | 4.8 |
| Blower/Lights Amps [12-inch (305 mm) Access Opening] | 5.2 |
| Blower/Lights Amps [14-inch (356mm) Access Opening] | |
| Blower/Lights Amps [8-inch (203 mm) Access Opening] | 4.5 |
| Electrical Configuration | 115V60Hz |
| Junction Box | Optional |
| Outlet Amps | 3 |
| Power Cord | 12 gauge - 3 Wire, 20A |
| Power Cord Length Foot (Meter) | 12 (3.7) |
| Rated Amps | 16 |
| | |
| --- | --- |
| Light Intensity fc (Lux) | 90-120 (968-1291) |
| Reach into workzone Inches (mm) | 6 (152) |
| Sound Pressure Level per ISO 4871 | ≤ 60 dba |
| | |
| --- | --- |
| 10-inch (254 mm) Opening Exhaust Requirement for Fixed Canopy (NU-907/NU-916) CFM (CMH) | 634 (1077) |
| 10-inch (254 mm) Opening Exhaust Requirement for Variable Flow Canopy (NU-911) CFM (CMH) | 538-763 (915-1297) |
| 12-inch (305 mm) Opening Exhaust Requirement for Fixed Canopy (NU-907/NU-916) CFM (CMH) | 763 (1251) |
| 12-inch (305 mm) Opening Exhaust Requirement for Variable Flow Canopy (NU-911) CFM (CMH) | 634-865 (1088-1470) |
| 14-inch (356mm) Opening Exhaust Requirement for Fixed Canopy (NU-926) CFM(CMH) | N/A |
| 14-inch (356mm) Opening Exhaust Requirement for Variable Flow Canopy (NU-911) CFM(CMH) | N/A |
| 8-inch (203 mm) Opening Exhaust Requirement for Fixed Canopy (NU-907/NU-916) CFM (CMH) | 532 (904) |
| 8-inch (203 mm) Opening Exhaust Requirement for Variable Flow Canopy (NU-911) CFM (CMH) | 436-661 (741-1124) |
| Bag In Bag Out | N/A |
| Heat Rejected 10-inch (254 mm) Access Opening (BTU/Hour) | 1884 |
| Heat Rejected 12-inch (305 mm) Access Opening (BTU/Hour) | 2041 |
| Heat Rejected 14-inch (356 mm) Access Opening (BTU/Hour) | N/A |
| Heat Rejected 8-inch (203 mm) Access Opening (BTU/Hour) | 1768 |
| Heat Rejected Vented (BTU/Hour) | 198 |
| Other Built-in Exhaust Option(s) | N/A |
| Plant Duct Static Pressure Inches (mm) | 0.05-0.1"/1.27-2.54mm H2O |
| | |
| --- | --- |
| Australian Test Method | N/A |
| Performance Standard | NSF-ANSI-49 |
| Safety Certification | UL, UL-C |
| | |
| --- | --- |
| Air Cleanliness (ISO 14644) | ISO-Class-5 |
| Downflow fpm (m/s) | 60 fpm (0.30 m/s) |
| Fumigation: per NIH/NSF Procedures | True |
| Inflow fpm (m/s) | 105 fpm (0.53 m/s) |
| Protection | Product, Personnel, Environmental |
| | |
| --- | --- |
| Airflow Monitor | SingleAirflowSensor |
| Control System | FlowGard |
| | |
| --- | --- |
| Est. Shipping Weight lbs (kg) | 690 lbs. / 313 kg |
| Net Weight lbs (kg) | 640 lbs. / 290 kg. |
| | |
| --- | --- |
| Blower Contact Wires | Optional |
| Closure Panels | Optional Rear Closure Panels for Seismic Brackets |
| Cord Pass Through | Standard Right |
| Double Exhaust HEPA Filter | Optional |
| Gas Supply Interlock with Blower | N/A |
| Glass Sidewalls | Optional |
| IV Bar with 6 Hooks | Optional |
| Magnifying Glass in Window | N/A |
| Motorized Base Stand | Optional as Separate Accessory |
| Motorized Window | N/A |
| Other Built-in Supply Filter Option(s) | N/A |
| Outlet(s) | Standard, two backwall |
| Plumbing | Optional 3/8" Soft Copper, 3/8" Black Pipe (Gas Only), or 1/2" Rigid Copper |
| Remote Service Valves | N/A |
| Seismic Brackets or Studs | Optional Rear or Floor Mount Seismic Brackets |
| Service Couplings (3/8-inch NPT) | Two Couplings on Left Side Wall and One on Right Side Wall are Standard, Maximum of Three Each Side Wall Optional |
| Service Valves (3/8-inch NPT) | One Valve on Right Side Wall is Standard, Maximum of Three Each Side Wall Optional |
| Side Panels | Optional with Plumbing out Bottom, Top or Back |
| Smooth Interior | N/A |
| Ultraviolet (UV) Light | Optional |
| Window Edge Protector | Optional |
| | |
| --- | --- |
| Access Opening Glass Type | Safety Glass |
| Armrest | Standard Plastic with Optional Stainless Steel |
| Cabinet Construction | All welded stainless steel 16/18 GA, Type 304 pressure tight design |
| Casters | N/A |
| Decontamination Seal-able Window | N/A |
| Diffuser | Metal, non-flammable |
| Drain Valve Location | Front right |
| Exhaust Filter | 11 1/2-inch (292 mm) 99.995% Efficiency @ MPPS |
| Front & Control Panel Material | Painted Steel |
| HEPA Filter Seal Type | HEPEX Zero Leak Neoprene Seal, Spring-loaded |
| Lighting | LED |
| Main Cabinet Wrap | Single Piece Stainless Steel Side and Back Wall Construction |
| Motor(s) | 1 HP DC ECM |
| Plenum Type | HEPEX |
| Pre-filter | N/A |
| Style | Bench top, optional base stand |
| Supply Filter | 3-inch (76mm) 99.995% Efficiency @ MPPS |
| Viewing Window Inches (mm) | 21 (533) open to fully closed |
| Work Access Opening(s) | 10-inch (254 mm) |
| Work Surface | One-Piece Dished Stainless Steel with Prop-Up Rod |
| Work Zone Wrap | Single Piece Stainless Steel Side and Back Wall Construction |
| | |
| --- | --- |
| Data Output Features | RS-232 |
| Remote Alarm Terminals | Standard |
| | |
| --- | --- |
| Est. Shipping Depth Inches (mm) | 43 (1092) |
| Est. Shipping Height Inches (mm) | 70 (1778) |
| Est. Shipping Width Inches (mm) | 82 (2083) |
| Exterior Depth Inches (mm) | 32 1/8 (817) |
| Exterior Depth with Armrest Removed Inches (mm) | 31 7/16 (799) |
| Exterior Height (Minimum for Transport) Inches (mm) | 59 (1499) |
| Exterior Height Inches (mm) | 60 7/8 (1546) |
| Exterior Height with 30-inch (762 mm) Work Surface Height inches (mm) | 88 3/8 (2245) |
| Exterior Height with 36-inch (915 mm) Work Surface Height inches (mm) | 94 3/8 (2397) |
| Exterior Width Inches (mm) | 77 5/8 (1972) |
| Nominal Width Feet (Meters) | 6 ft. (1.8m) |
| Useable Work Tray Area Depth Inches (mm) | 20 7/8 (530) |
| Useable Work Tray Area Width Inches (mm) | 69 7/8 (1775) |
| Work Area Depth Measured at 10-inches (254 mm) Window Height Inches (mm) | 25 3/4 (654) |
| Work Area Depth Measured at 12-inches (305 mm) Window Height Inches (mm) | N/A |
| Work Area Depth Measured at 14-inches (356 mm) Window Height Inches (mm) | N/A |
| Work Area Depth Measured at 8-inches (203 mm) Window Height Inches (mm) | N/A |
| Work Area Height Inches (mm) | 28 1/2 (724) |
| Work Area Width Inches (mm) | 70 3/8 (1788) |
| | |
| --- | --- |
| Blower/Lights Amps [10-inch (254 mm) Access Opening] | 4.8 |
| Blower/Lights Amps [12-inch (305 mm) Access Opening] | |
| Blower/Lights Amps [14-inch (356mm) Access Opening] | |
| Blower/Lights Amps [8-inch (203 mm) Access Opening] | |
| Electrical Configuration | 230V5060Hz |
| Junction Box | Optional |
| Outlet Amps | 3 |
| Power Cord | 14 gauge - 3 Wire, 15A |
| Power Cord Length Foot (Meter) | 12 (3.7) |
| Rated Amps | 11 |
| | |
| --- | --- |
| Light Intensity fc (Lux) | 90-120 (968-1291) |
| Reach into workzone Inches (mm) | 6 (152) |
| Sound Pressure Level per ISO 4871 | ≤ 60 dba |
| | |
| --- | --- |
| 10-inch (254 mm) Opening Exhaust Requirement for Fixed Canopy (NU-907/NU-916) CFM (CMH) | 634 (1077) |
| 10-inch (254 mm) Opening Exhaust Requirement for Variable Flow Canopy (NU-911) CFM (CMH) | 538-763 (915-1297) |
| 12-inch (305 mm) Opening Exhaust Requirement for Fixed Canopy (NU-907/NU-916) CFM (CMH) | N/A |
| 12-inch (305 mm) Opening Exhaust Requirement for Variable Flow Canopy (NU-911) CFM (CMH) | N/A |
| 14-inch (356mm) Opening Exhaust Requirement for Fixed Canopy (NU-926) CFM(CMH) | N/A |
| 14-inch (356mm) Opening Exhaust Requirement for Variable Flow Canopy (NU-911) CFM(CMH) | N/A |
| 8-inch (203 mm) Opening Exhaust Requirement for Fixed Canopy (NU-907/NU-916) CFM (CMH) | N/A |
| 8-inch (203 mm) Opening Exhaust Requirement for Variable Flow Canopy (NU-911) CFM (CMH) | N/A |
| Bag In Bag Out | N/A |
| Heat Rejected 10-inch (254 mm) Access Opening (BTU/Hour) | 1884 |
| Heat Rejected 12-inch (305 mm) Access Opening (BTU/Hour) | N/A |
| Heat Rejected 14-inch (356 mm) Access Opening (BTU/Hour) | N/A |
| Heat Rejected 8-inch (203 mm) Access Opening (BTU/Hour) | N/A |
| Heat Rejected Vented (BTU/Hour) | 198 |
| Other Built-in Exhaust Option(s) | N/A |
| Plant Duct Static Pressure Inches (mm) | 0.05-0.1"/1.27-2.54mm H2O |
| | |
| --- | --- |
| Australian Test Method | Optional |
| Performance Standard | NSF-ANSI-49, EN-12469 |
| Safety Certification | |
| | |
| --- | --- |
| Air Cleanliness (ISO 14644) | ISO-Class-5 |
| Downflow fpm (m/s) | 60 fpm (0.30 m/s) |
| Fumigation: per NIH/NSF Procedures | True |
| Inflow fpm (m/s) | 105 fpm (0.53 m/s) |
| Protection | Product, Personnel, Environmental |
| | |
| --- | --- |
| Airflow Monitor | SingleAirflowSensor |
| Control System | FlowGard |
| | |
| --- | --- |
| Est. Shipping Weight lbs (kg) | 690 lbs. / 313 kg |
| Net Weight lbs (kg) | 640 lbs. / 290 kg. |
| | |
| --- | --- |
| Blower Contact Wires | N/A |
| Closure Panels | N/A |
| Cord Pass Through | Standard Right |
| Double Exhaust HEPA Filter | N/A |
| Gas Supply Interlock with Blower | N/A |
| Glass Sidewalls | N/A |
| IV Bar with 6 Hooks | Optional |
| Magnifying Glass in Window | N/A |
| Motorized Base Stand | Optional as Separate Accessory |
| Motorized Window | N/A |
| Other Built-in Supply Filter Option(s) | N/A |
| Outlet(s) | Standard, two backwall |
| Plumbing | N/A |
| Remote Service Valves | N/A |
| Seismic Brackets or Studs | N/A |
| Service Couplings (3/8-inch NPT) | Two Couplings on Left Side Wall and One on Right Side Wall are Standard, Maximum of Two Each Side Wall Optional |
| Service Valves (3/8-inch NPT) | One Valve on Right Side Wall is Standard, Maximum of Two Each Side Wall Optional |
| Side Panels | N/A |
| Smooth Interior | N/A |
| Ultraviolet (UV) Light | Optional |
| Window Edge Protector | N/A |
| | |
| --- | --- |
| Access Opening Glass Type | Safety Glass |
| Armrest | Plastic |
| Cabinet Construction | All welded stainless steel 16/18 GA, Type 304 pressure tight design |
| Casters | N/A |
| Decontamination Seal-able Window | N/A |
| Diffuser | Metal, non-flammable |
| Drain Valve Location | Front right |
| Exhaust Filter | 11 1/2-inch (292 mm) 99.995% Efficiency @ MPPS |
| Front & Control Panel Material | Painted Steel |
| HEPA Filter Seal Type | HEPEX Zero Leak Neoprene Seal, Spring-loaded |
| Lighting | LED |
| Main Cabinet Wrap | Seam Welded Stainless Steel Side and Back Wall Construction |
| Motor(s) | 1 HP DC ECM |
| Plenum Type | HEPEX |
| Pre-filter | N/A |
| Style | Bench top, optional base stand |
| Supply Filter | 3-inch (76mm) 99.995% Efficiency @ MPPS |
| Viewing Window Inches (mm) | 21 (533) open to fully closed |
| Work Access Opening(s) | 10-inch (254 mm) |
| Work Surface | One-Piece Dished Stainless Steel with Prop-Up Rod |
| Work Zone Wrap | Single Piece Stainless Steel Side and Back Wall Construction |
| | |
| --- | --- |
| Data Output Features | RS-232 |
| Remote Alarm Terminals | Standard |
| | |
| --- | --- |
| Est. Shipping Depth Inches (mm) | 41.3 (1050mm) |
| Est. Shipping Height Inches (mm) | 76.8 (1950mm) |
| Est. Shipping Width Inches (mm) | 80.3 (2040) |
| Exterior Depth Inches (mm) | 32 3/16 (817) |
| Exterior Depth with Armrest Removed Inches (mm) | 31 7/16 (799) |
| Exterior Height (Minimum for Transport) Inches (mm) | 59 (1499) |
| Exterior Height Inches (mm) | 60 7/8 (1546) |
| Exterior Height with 30-inch (762 mm) Work Surface Height inches (mm) | 87 3/8 (2219) |
| Exterior Height with 36-inch (915 mm) Work Surface Height inches (mm) | 93 3/8 (2372) |
| Exterior Width Inches (mm) | 77 5/8 (1972) |
| Nominal Width Feet (Meters) | 6 ft. (1.8m) |
| Useable Work Tray Area Depth Inches (mm) | 20 7/8 (530) |
| Useable Work Tray Area Width Inches (mm) | 69 7/8 (1775) |
| Work Area Depth Measured at 10-inches (254 mm) Window Height Inches (mm) | 25 3/4 (654) |
| Work Area Depth Measured at 12-inches (305 mm) Window Height Inches (mm) | N/A |
| Work Area Depth Measured at 14-inches (356 mm) Window Height Inches (mm) | N/A |
| Work Area Depth Measured at 8-inches (203 mm) Window Height Inches (mm) | N/A |
| Work Area Height Inches (mm) | 28 1/2 (724) |
| Work Area Width Inches (mm) | 70 3/8 (1788) |
| | |
| --- | --- |
| Blower/Lights Amps [10-inch (254 mm) Access Opening] | 4.8 |
| Blower/Lights Amps [12-inch (305 mm) Access Opening] | |
| Blower/Lights Amps [14-inch (356mm) Access Opening] | |
| Blower/Lights Amps [8-inch (203 mm) Access Opening] | |
| Electrical Configuration | 100V5060Hz |
| Junction Box | N/A |
| Outlet Amps | 2 |
| Power Cord | 12 GA - 3 Wire, 20A |
| Power Cord Length Foot (Meter) | 12 (3.7) |
| Rated Amps | 13 |
| | |
| --- | --- |
| Light Intensity fc (Lux) | 90-120 (968-1291) |
| Reach into workzone Inches (mm) | 6 (152) |
| Sound Pressure Level per ISO 4871 | Inquire |
| | |
| --- | --- |
| 10-inch (254 mm) Opening Exhaust Requirement for Fixed Canopy (NU-907/NU-916) CFM (CMH) | 634 (1077) |
| 10-inch (254 mm) Opening Exhaust Requirement for Variable Flow Canopy (NU-911) CFM (CMH) | 538-763 (915-1297) |
| 12-inch (305 mm) Opening Exhaust Requirement for Fixed Canopy (NU-907/NU-916) CFM (CMH) | N/A |
| 12-inch (305 mm) Opening Exhaust Requirement for Variable Flow Canopy (NU-911) CFM (CMH) | N/A |
| 14-inch (356mm) Opening Exhaust Requirement for Fixed Canopy (NU-926) CFM(CMH) | N/A |
| 14-inch (356mm) Opening Exhaust Requirement for Variable Flow Canopy (NU-911) CFM(CMH) | N/A |
| 8-inch (203 mm) Opening Exhaust Requirement for Fixed Canopy (NU-907/NU-916) CFM (CMH) | N/A |
| 8-inch (203 mm) Opening Exhaust Requirement for Variable Flow Canopy (NU-911) CFM (CMH) | N/A |
| Bag In Bag Out | N/A |
| Heat Rejected 10-inch (254 mm) Access Opening (BTU/Hour) | 1884 |
| Heat Rejected 12-inch (305 mm) Access Opening (BTU/Hour) | N/A |
| Heat Rejected 14-inch (356 mm) Access Opening (BTU/Hour) | N/A |
| Heat Rejected 8-inch (203 mm) Access Opening (BTU/Hour) | N/A |
| Heat Rejected Vented (BTU/Hour) | 198 |
| Other Built-in Exhaust Option(s) | N/A |
| Plant Duct Static Pressure Inches (mm) | 0.05-0.1"/1.27-2.54mm H2O |
| | |
| --- | --- |
| Australian Test Method | N/A |
| Performance Standard | NSF-ANSI-49 |
| Safety Certification | UL, UL-C |
| | |
| --- | --- |
| Air Cleanliness (ISO 14644) | ISO-Class-5 |
| Downflow fpm (m/s) | 60 fpm (0.30 m/s) |
| Fumigation: per NIH/NSF Procedures | True |
| Inflow fpm (m/s) | 105 fpm (0.53 m/s) |
| Protection | Product, Personnel, Environmental |
| | |
| --- | --- |
| Airflow Monitor | SingleAirflowSensor |
| Control System | FlowGard |
| | |
| --- | --- |
| Est. Shipping Weight lbs (kg) | 690 (313) |
| Net Weight lbs (kg) | 640 (290) |
| | |
| --- | --- |
| Blower Contact Wires | N/A |
| Closure Panels | N/A |
| Cord Pass Through | Standard Right |
| Double Exhaust HEPA Filter | N/A |
| Gas Supply Interlock with Blower | N/A |
| Glass Sidewalls | N/A |
| IV Bar with 6 Hooks | Optional |
| Magnifying Glass in Window | N/A |
| Motorized Base Stand | Optional as Separate Accessory |
| Motorized Window | N/A |
| Other Built-in Supply Filter Option(s) | N/A |
| Outlet(s) | Standard, two backwall |
| Plumbing | N/A |
| Remote Service Valves | N/A |
| Seismic Brackets or Studs | N/A |
| Service Couplings (3/8-inch NPT) | Two Couplings on Left Side Wall and One on Right Side Wall are Standard, Maximum of Two Each Side Wall Optional |
| Service Valves (3/8-inch NPT) | One Valve on Right Side Wall is Standard, Maximum of Two Each Side Wall Optional |
| Side Panels | N/A |
| Smooth Interior | N/A |
| Ultraviolet (UV) Light | Optional |
| Window Edge Protector | N/A |
| | |
| --- | --- |
| Access Opening Glass Type | Safety Glass |
| Armrest | Plastic |
| Cabinet Construction | All welded stainless steel 16/18 GA, Type 304 pressure tight design |
| Casters | N/A |
| Decontamination Seal-able Window | N/A |
| Diffuser | Metal, non-flammable |
| Drain Valve Location | Front right |
| Exhaust Filter | 11 1/2-inch (292 mm) 99.995% Efficiency @ MPPS |
| Front & Control Panel Material | Painted Steel |
| HEPA Filter Seal Type | HEPEX Zero Leak Neoprene Seal, Spring-loaded |
| Lighting | LED |
| Main Cabinet Wrap | Seam Welded Stainless Steel Side and Back Wall Construction |
| Motor(s) | 1 HP DC ECM |
| Plenum Type | HEPEX |
| Pre-filter | N/A |
| Style | Bench top, optional base stand |
| Supply Filter | 3-inch (76mm) 99.995% Efficiency @ MPPS |
| Viewing Window Inches (mm) | 21 (533) open to fully closed |
| Work Access Opening(s) | 10-inch (254 mm) |
| Work Surface | One-Piece Dished Stainless Steel with Prop-Up Rod |
| Work Zone Wrap | Single Piece Stainless Steel Side and Back Wall Construction |
| | |
| --- | --- |
| Data Output Features | RS-232 |
| Remote Alarm Terminals | Standard |
| | |
| --- | --- |
| Est. Shipping Depth Inches (mm) | 41.3 (1050mm) |
| Est. Shipping Height Inches (mm) | 76.8 (1950mm) |
| Est. Shipping Width Inches (mm) | 80.3 (2040) |
| Exterior Depth Inches (mm) | 32 3/16 (817) |
| Exterior Depth with Armrest Removed Inches (mm) | 31 7/16 (799) |
| Exterior Height (Minimum for Transport) Inches (mm) | 59 (1499) |
| Exterior Height Inches (mm) | 60 7/8 (1546) |
| Exterior Height with 30-inch (762 mm) Work Surface Height inches (mm) | 87 3/8 (2219) |
| Exterior Height with 36-inch (915 mm) Work Surface Height inches (mm) | 93 3/8 (2372) |
| Exterior Width Inches (mm) | 77 5/8 (1972) |
| Nominal Width Feet (Meters) | 6 ft. (1.8m) |
| Useable Work Tray Area Depth Inches (mm) | 20 7/8 (530) |
| Useable Work Tray Area Width Inches (mm) | 69 7/8 (1775) |
| Work Area Depth Measured at 10-inches (254 mm) Window Height Inches (mm) | 25 3/4 (654) |
| Work Area Depth Measured at 12-inches (305 mm) Window Height Inches (mm) | N/A |
| Work Area Depth Measured at 14-inches (356 mm) Window Height Inches (mm) | N/A |
| Work Area Depth Measured at 8-inches (203 mm) Window Height Inches (mm) | N/A |
| Work Area Height Inches (mm) | 28 1/2 (724) |
| Work Area Width Inches (mm) | 70 3/8 (1788) |
| | |
| --- | --- |
| Blower/Lights Amps [10-inch (254 mm) Access Opening] | 4.8 |
| Blower/Lights Amps [12-inch (305 mm) Access Opening] | |
| Blower/Lights Amps [14-inch (356mm) Access Opening] | |
| Blower/Lights Amps [8-inch (203 mm) Access Opening] | |
| Electrical Configuration | 100V5060Hz |
| Junction Box | N/A |
| Outlet Amps | 3 |
| Power Cord | 12 GA - 3 Wire, 20A |
| Power Cord Length Foot (Meter) | 12 (3.7) |
| Rated Amps | 16 |
| | |
| --- | --- |
| Light Intensity fc (Lux) | 90-120 (968-1291) |
| Reach into workzone Inches (mm) | 6 (152) |
| Sound Pressure Level per ISO 4871 | Inquire |
| | |
| --- | --- |
| 10-inch (254 mm) Opening Exhaust Requirement for Fixed Canopy (NU-907/NU-916) CFM (CMH) | 634 (1077) |
| 10-inch (254 mm) Opening Exhaust Requirement for Variable Flow Canopy (NU-911) CFM (CMH) | 538-763 (915-1297) |
| 12-inch (305 mm) Opening Exhaust Requirement for Fixed Canopy (NU-907/NU-916) CFM (CMH) | N/A |
| 12-inch (305 mm) Opening Exhaust Requirement for Variable Flow Canopy (NU-911) CFM (CMH) | N/A |
| 14-inch (356mm) Opening Exhaust Requirement for Fixed Canopy (NU-926) CFM(CMH) | N/A |
| 14-inch (356mm) Opening Exhaust Requirement for Variable Flow Canopy (NU-911) CFM(CMH) | N/A |
| 8-inch (203 mm) Opening Exhaust Requirement for Fixed Canopy (NU-907/NU-916) CFM (CMH) | N/A |
| 8-inch (203 mm) Opening Exhaust Requirement for Variable Flow Canopy (NU-911) CFM (CMH) | N/A |
| Bag In Bag Out | N/A |
| Heat Rejected 10-inch (254 mm) Access Opening (BTU/Hour) | 1884 |
| Heat Rejected 12-inch (305 mm) Access Opening (BTU/Hour) | N/A |
| Heat Rejected 14-inch (356 mm) Access Opening (BTU/Hour) | N/A |
| Heat Rejected 8-inch (203 mm) Access Opening (BTU/Hour) | N/A |
| Heat Rejected Vented (BTU/Hour) | 198 |
| Other Built-in Exhaust Option(s) | N/A |
| Plant Duct Static Pressure Inches (mm) | 0.05-0.1"/1.27-2.54mm H2O |
| | |
| --- | --- |
| Australian Test Method | N/A |
| Performance Standard | NSF-ANSI-49 |
| Safety Certification | UL, UL-C |
| | |
| --- | --- |
| Air Cleanliness (ISO 14644) | ISO-Class-5 |
| Downflow fpm (m/s) | 60 fpm (0.30 m/s) |
| Fumigation: per NIH/NSF Procedures | True |
| Inflow fpm (m/s) | 105 fpm (0.53 m/s) |
| Protection | Product, Personnel, Environmental |
| | |
| --- | --- |
| Airflow Monitor | SingleAirflowSensor |
| Control System | FlowGard |
| | |
| --- | --- |
| Est. Shipping Weight lbs (kg) | 690 (313) |
| Net Weight lbs (kg) | 640 (290) |
| | |
| --- | --- |
| Blower Contact Wires | N/A |
| Closure Panels | N/A |