Designed to Meet Your Application
ProGard casework is available in standard and custom sizes to outfit your laboratory.
Products
NU-30-3630
36 x 22 x 29 in. (914 x 559 x 737 mm)

NU-30-3636
36 x 22 x 35 in. (914 x 559 x 889 mm)

NU-30-4230
42 x 22 x 29 in. (1067 x 559 x 737 mm)

NU-30-4236
42 x 22 x 35 in. (1067 x 559 x 889 mm)

NU-30-4830
48 x 22 x 29 in. (1219 x 559 x 737 mm)

NU-30-4836
48 x 22 x 35 in. (1219 x 559 x 889 mm)

Quick Specs
| | |
| --- | --- |
| Number of Doors | 2 |
| Number of Drawers | 2 |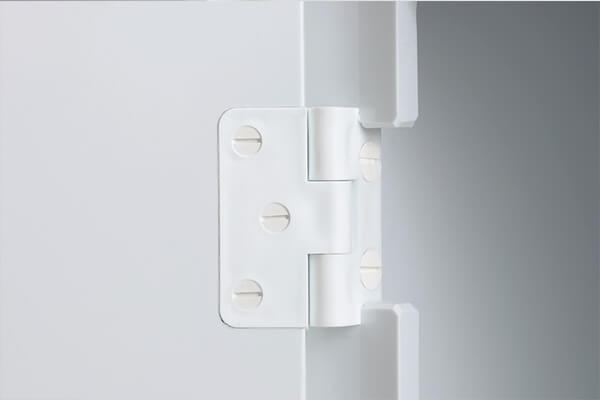 Relieve Stress on Screws
Hinge Construction
Polypropylene casework uses a 3-knuclesd hinge with replaceable hinge pin recesses into the case door opening. By recessing the hinge flush into the door panel relieves sheer stress on the PTFE coated screws.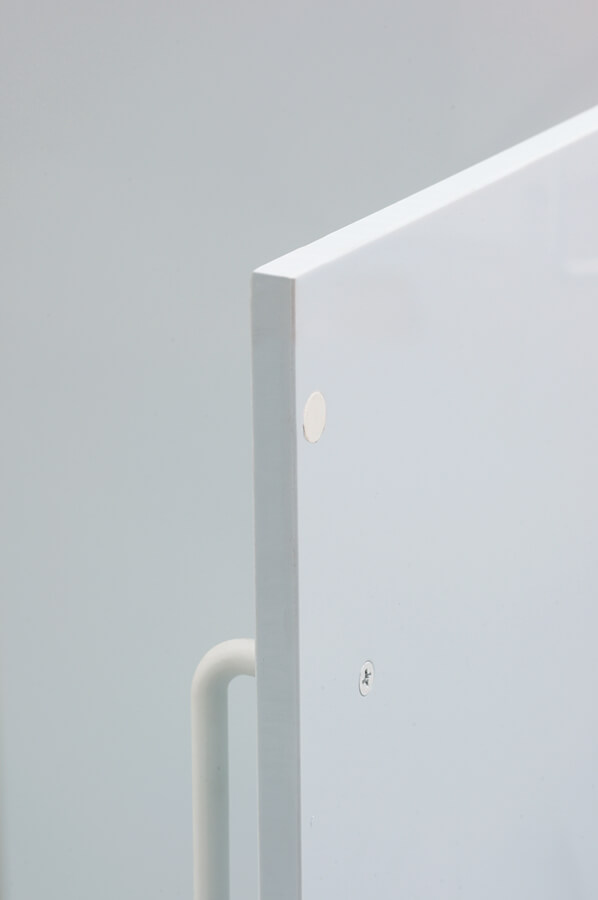 No More Rust
Door and Latch Construction
PTFA coated magnets are embedded into the interior of the top and bottom of the door. Identifies magnets are embedded inside the case frame. All magnets are sealed with a polypropylene plug. Wire pull handles are molded from polypropylene and fastened to the door by PTFE coasted screws.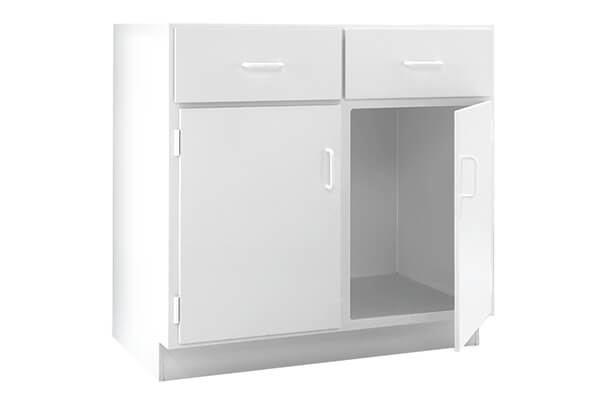 Design to Last
Base Cabinet Construction
ProGard casework is fully seam welded on the interior of the cabinet. Pre-drilled and counter-bored holes can be found on the cabinet's left and right sides to connect cabinetry during installation. The cabinet's interior features a 0.5-inch (13 mm) spill lip on the bottom floor. Standard construction includes a 4-inch (102 mm) high, 3-inch (77 mm) deep toe kick. Base cabinets feature a removable flush-mounted 0.25-inch (7 mm) thick access panel held to perform work on hidden plumbing and electrical running behind the casework.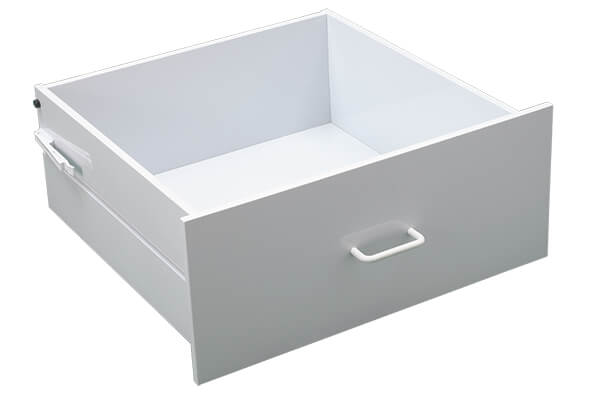 Easy Cleaning
Drawer Construction
Interior seams are cemented and tacked to form smooth, easily cleanable interior corners. Sides are bolted (0.25-inch x 20, PVC hex head) to the rear panel for added strength. The front is fully seam welded to the sides and bottom. Wire pulls handles are molded polypropylene fastened by PTFE coated screws.
The NuAire© Advantage
NuAire® utilizes an independent network of sales and service professionals offering our customers a vast array of knowledge and relationships. Our inside sales and service teams are the pride of the industry; some of which have been with NuAire® since the beginning in 1971. We work hard and diligently to make you happy. That is our mission, and that is why we come to work every day. Purchase a NuAire® and become part of our family.
Warranty
Backed by the Industry's Best
1 Year Parts & Labor (United States and Canada)
Consult Local Distributor (Global)
Standard Features
Fully Seam Welded Interior
Fully Welded Drawer Glide Rails
0.5-inch (13 mm) Reveal Around Drawers
Pre-Drilled & Counter-Bored Holes for Installation
4-inch (102) High, 3-inch (77 mm) Deep Toe Kick
Molded Wire Pull Handled with PTFE Coated Screws
PTFA Coated Embedded Magnets
Sealed Magnets with Polypropylene Plug
| | |
| --- | --- |
| Number of Doors | 2 |
| Number of Drawers | 2 |
Dimensions
| | NU-30-3630 | NU-30-3636 | NU-30-4230 | NU-30-4236 | NU-30-4830 | NU-30-4836 |
| --- | --- | --- | --- | --- | --- | --- |
| Exterior Depth Inches (mm) | 22 (559) | 22 (559) | 22 (559) | 22 (559) | 22 (559) | 22 (559) |
| Exterior Height Inches (mm) | 29 (737) | 35 (889) | 29 (737) | 35 (889) | 29 (737) | 35 (889) |
| Exterior Width Inches (mm) | 36 (914) | 36 (914) | 42 (1067) | 42 (1067) | 48 (1219) | 48 (1219) |
NuAire Accessories
Please keep in mind parts and accessories are product and size specific, contact your sales representative for any clarity to your size questions.
REQUEST A QUOTE
PLEASE FILL OUT THE FORM AND WE'LL GET TO WORK ON GETTING YOU WHAT YOU NEED.
How it works. NuAire sells through a network of knowledge representatives, some who have been selling and servicing NuAire since our inception in 1971. We'll notify your local representative who will reach out to you. He/She can assist with product selection/configuration, training, installation guidance, support throughout the life of the product, or just provide you pricing in a quick manner. We have some of the best customers who are doing some groundbreaking work. We would love for you to join our family and experience the NuAire Advantage.
Why Your Colleagues Choose NuAire
Let me say that we have come to rely on Nuaire, as a strong partner to Vaccines & it is so because of our valued relationship with George Riley, who is always at our beck and call. God bless him (Keep him for Sure!!) & your Quality BioSafety Cabinets. Service is King & Quality is his side-kick!! So thank you! We look forward to a long and prosperous relationship. Keep up the good work & quality build.