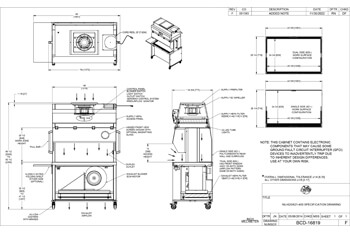 Drawing
NU-620-400/NU-621-400 Animal Transfer Station Cut Sheet
Explore the detailed specification drawing for NuAire's Nominal 4-Foot (1.2 Meter) Wide Animal Transfer Stations, models NU-620 (Dual Side) and NU-621 (Single Side). This comprehensive drawing meticulously outlines the product dimensions, clearly visualizing the unit's size and spatial requirements. It includes all standard features, showcasing the intricate design and functionality that makes these models exceptional for small animal cage changes.
Key highlights of the drawing include the integration of ergonomic features for animal technicians, innovative airflow systems for maintaining animal sterility, and robust construction materials ensuring durability and longevity. The document also elaborates on common options and accessories available with these units, offering customization to meet specific vivarium needs.
From the ease of access for cage changing to the precision-engineered airflow dynamics, every aspect is clearly detailed, making this drawing an indispensable tool for planning and integrating these animal transfer stations into your laboratory setup.
Download